Meet Your Coatesville Dentist
Mark Simeone, DMD, AEGD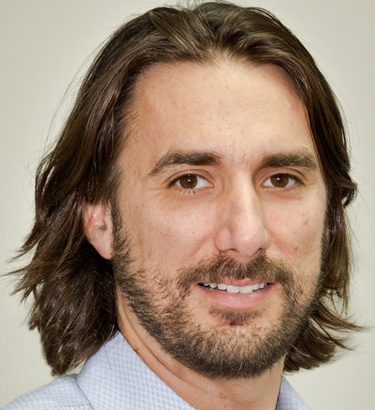 Dr. Simeone founded Chester County Dental arts in Coatesville to provide comprehensive dental care for the growing families and businesses in the area. Our office opened its doors in February of 2016, and Dr. Simeone and his team have the goal of bringing excellent general and specialty dentistry services to patients all in one office. By having skilled dental specialists in the office, Dr. Simeone is confident his patients will always receive the highest quality care without worrying about referrals, visiting outside offices, and handling all the extra paperwork.
Dr. Simeone has nearly two decades of experience as a general and cosmetic dentist. He earned his doctor of dental medicine from Temple University's School and Dental Medicine in 2001, and he completed his advanced education in general dentistry (AEGD) residency at Rutgers University. Since completing his doctoral studies and residency, Dr. Simeone has become one of the most respected dentists in his field. He has been featured on television programs on the E! Style Network, CBS Philadelphia, and Fox 29. Dr. Simeone has practiced in Los Angeles, Philadelphia, and Chester County. While in California, Dr. Simeone had the opportunity to work many patients you may have heard of, including Oscar winner Jennifer Lawrence. No matter who his patients are, Dr. Simeone works to help them learn to love their smiles.
As a dedicated member of the dental profession, Dr. Simeone is an active member in numerous professional organizations including, the American Academy of Cosmetic Dentistry, Academy of General Dentistry, and the American Academy of Implant Dentistry.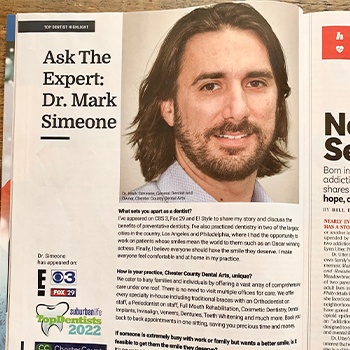 Dr. Simeone was recently chosen as one of Suburban Life Magazine's Top Dentists of 2019. The winners of this award are nominated and voted on by actual patients in the local community, so he considers this a wonderful accomplishment and is honored by his inclusion. Leaving patients happy is his biggest goal, after all!
Watch Dr. Simeone on Fox 29
Dr. Mark Simeone appeared on the acclaimed television program American Health Front on Sunday, November 25th 2018 on Philadelphia's own, Fox 29. On the program, Dr. Simeone discussed the benefits of Dental Implants and what differentiates his professional ability to place implants, including the international live patient training courses he has taken. There were amazing patient testimonials included as well. Watch Dr. Simeone on Fox 29 below.
Investment in Continuing Education
What makes Dr. Simeone different from the rest? A lot -- but one of the chief advantages of visiting this dentist is his commitment to continuing education. Dr. Simeone frequently invests his time and money into large and complex dental courses, because he knows that his education didn't end with dental school. Your dentist is continually expanding his knowledge and expertise in complex dental surgeries like dental implants, dentures, full smile makeovers, cosmetic dentistry, and much more. That commitment is above and beyond what you can expect from most dentists, and the results really show in Dr. Simeone's superior level of care and attention to detail.
In October of 2018, Dr. Simeone attended a 4-day Full Mouth Rehabilitation course at New York University's Dental School in New York City. Here, he received hands-on training across several treatments, including dental implant placement and restoration -- wonderful experience that he can put to use completing patients' smiles with this comprehensive tooth replacement solution. In the same month, this dentist also took part in a live, two-day patient course through the American Academy of Facial Esthetics. He received training in Botox, Fillers, and advanced TMJ therapies. This state-of-the-art course helps Dr. Simeone further his cosmetic dentistry offerings and offer new services to his patients. Additionally, Dr. Simeone has advanced his skills in full-arch implant solutions through a two-part, 6-day full-arch implant solution course in Lexington, KY. There is practically no distance too great or investment too significant for this excellent dentist to make for the benefit of his patients and his practice!









A native of Newton Square, Dr. Simeone is happily married, and he and his wife are the proud parents of three young sons. When he's not spending time with family and friends or working hard to deliver flawless smiles, Dr. Simeone enjoys running, competing in triathlons, and doing cross fit.
More to Explore
Meet Dr. BruckMeet Dr. Bichara Meet Dr. Benshetrit Meet the Team Tour Our OfficeSee All Our Services