Preventive Dentistry – Coatesville, PA
Keeping Chester County Families Smiling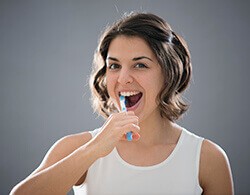 Prevention is the one of the most important steps patients take for their oral health – after all, isn't it easier to prevent a problem before it starts? At Chester County Dental Arts, we want to be your trusted partners throughout this lifelong process providing in-depth check-ups, revitalizing cleanings, and other services designed to protect and strengthen your smile. We're open evenings and weekends to accommodate busy families! Call today if you have any questions about preventive dentistry in Coatesville, PA or if you're ready to schedule your first appointment with Dr. Mark Simeone.
Dental Checkups & Teeth Cleanings
Attending routine check-ups and cleanings is one of the most vital steps patients take to maintain great oral health. Our team recommends at least two visits a year. During your check-up, not only will our skilled hygienists work with you, Dr. Simeone will complete a comprehensive examination as well. Dr. Simeone's goal is to help you have a complete understanding of your dental needs. Dr. Simeone and his team use various tools such as digital X-rays, periodontal screenings, oral cancer screenings, and more to assist with this. Once we have gathered all of this information, Dr. Simeone develops a personalized treatment plan that addressees your needs effectively.
Learn More About Dental Checkups & Teeth Cleanings
Night Guards for TMJ & Bruxism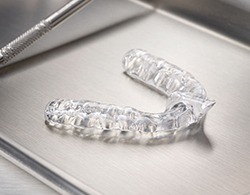 Do your teeth seem inexplicably damaged or worn down over time? Are headaches, earaches, and discomfort in the jaw and face common for you? These symptoms are often times painful and frustrating, but you don't have to live with them. These symptoms are usually a sign of Bruxism (also known as teeth grinding). This common condition has many possible causes, including stress, diet, sleeping habits, and misaligned teeth. What's worse is that most patients experience Bruxism while they're sleeping, which prevents them from breaking the habit on their own. Thankfully, Dr. Simeone and our team can assist with a personalized night guard. This oral appliance protects your teeth and jaw against the ill effects of teeth grinding, allowing you to rest easier and wake more refreshed and pain free!
Learn More About Nightguards for TMJ and Bruxism
Dental Sealants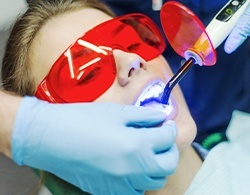 Keeping every tooth perfectly clean can be a struggle for some patients, especially those who are just learning how to properly brush and floss. Molars in particular have deep grooves that easily trap food in hard-to-reach places. With dental sealants, our team at Chester County Dental Arts guards these vulnerable areas and reduces the risk of cavities. A thin, resin material is applied directly onto the tooth's chewing surfaces, effectively "sealing" them shut. Through proper care, they can benefit you for up to 10 years.
Athletic Sportsguards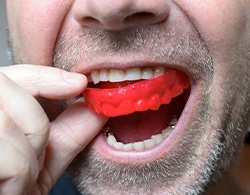 Do you or a family member play a sport? When participating in athletic events that could involve contact with people or hard surfaces, it's important to remember that your smile is vulnerable. That's why Dr. Simeone strongly recommends wearing a sports guard for recreational activity. Our customized versions are designed to allow patients plenty of movement and comfort, and they significantly reduce the risk of injuries affecting teeth, soft tissue, or lips. In fact, research suggests that wearing a sports guard can even lessen the severity of a concussion!
Oral Cancer Screenings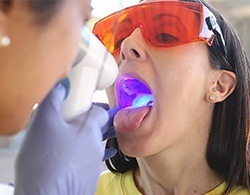 Tens of thousands of people are diagnosed with oral cancer every year. The staggering statistics of fatality associated with Oral Cancer usually is because most cases aren't caught until they've reached advanced, destructive stages. That's why our dental team in Coatesville is dedicated to providing adults with routine oral cancer screenings. By locating tell-tale symptoms right away, Dr. Simeone helps you take the next steps towards biopsy, diagnosis, and successful treatment. Possible signs of oral cancer include:
Red or white spots within the mouth
Lumps, crusts, or thickened areas within the mouth
Oral sores that are slow to heal or easily bleed
Pain, tenderness, or numbness in the lips and mouth
Learn More About Oral Cancer Screenings
Periodontal Disease Treatment
Periodontal disease (also known as gum disease) is one of the most common health problems in the world. In fact, nearly three out of four people are affected by it over the course of their lives. At Chester County Dental Arts, we make the diagnosis and treatment of periodontal disease a top priority. Our treatment recommendations depend on the severity of your condition. In mild cases, more frequent cleanings or more diligent homecare may be enough to prevent further damage. Moderate instances could require scaling and root planning, antibiotic therapy, and possibly additional treatment.
Learn More About Periodontal Disease Treatment
Children's Dentistry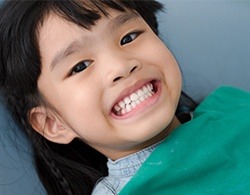 Our Coatesville, PA dental team loves treating little smiles! The whole family is welcome here, and we'll be sure to take a gentle approach when caring for your son or daughter. Routine check-ups and cleanings reveal possible developmental concerns that may need addressing later on, and services like dental sealants and fluoride treatment provide them with valuable protection. Dr. Simeone's goal is to help them on the path towards lifelong oral health and happiness.