Periodontal Treatment – Coatesville, PA
Making Gum Disease Therapy a Priority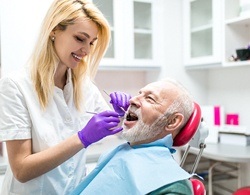 Far too often, the signs and symptoms associated with gum disease are overlooked or avoided. Patients who see minimal bleeding or minor redness in their gums might opt to forgo a visit to the dental office, believing it will magically go away on its own. Unfortunately, without gum disease therapy, the problem will only worsen, leading to increased inflammation and infection that can cause bone and tooth loss, as well as other serious health issues. Dr. Mark Simeone understands the urgency that comes with periodontal disease, which is why he offers safe and effective methods of treatment to combat the problem and put patients back on a path to better oral health. To schedule an appointment with Dr. Simeone for periodontal treatment in Coatesville, PA, call us today.
Common Signs of Gum Disease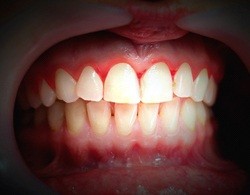 If you believe you might have gum disease, you will recognize the following symptoms:
What to Expect During a Periodontal Disease Screening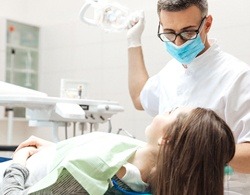 During your appointment, your dentist or one of our highly skilled dental hygienists will check your gums to determine if there are any signs of gum disease. Using special tools, they will measure the depth of your gum pockets and record the proper score (i.e. 0-4). This is known as charting. If you fall toward the higher end of the scale (3 or 4), it is likely that further examination will be necessary.
Once measurements are taken and recorded, Dr. Simeone will evaluate the results to determine if gingivitis is present or periodontitis has set in. If gingivitis is the culprit, you will be required to undergo a thorough cleaning and be provided helpful tips to improve your oral hygiene habits at home. If followed correctly, you can reverse gingivitis. If periodontitis is found to be the reason for your deep pockets, he will likely recommend scaling and root planing.
How Scaling and Root Planing Work as a Gum Disease Therapy Option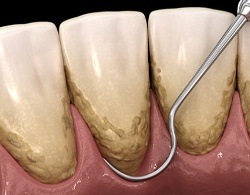 Should you have periodontitis and require a deep cleaning, Dr. Simeone will perform a scaling and root planing procedure to help improve the health of your gums.
The dental team at Chester County Dental Arts will begin by removing plaque and tartar build-up above and below the gum line. This is known as scaling. Once we've removed the harmful bacteria, we will begin the second stage which is root planing. This process smooths the tooth root and encourages reattachment to the soft tissues.
Scaling and root planing may be completed in one appointment or several. Much of the timeline is dependent on how severe your individual case is and how long Dr. Simeone believes it will take to effectively achieve desired results. It is important that you understand as a periodontal patient, you will be required to see us more frequently than the traditional six-month visit. It is likely you will need to see us for treatment every three months.