Other Orthodontic Treatments – Coatesville, PA
Protective Treatments for Developing Smiles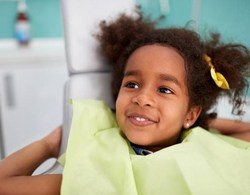 When most people think of orthodontics in Coatesville, their mind goes straight to braces and Invisalign. But did you know that those treatments are just part of this branch of dentistry? At Chester County Dental Arts, our board-certified orthodontist, Dr. Ronni Bruck, can do much more than straighten a crooked smile. She can encourage proper mouth development and provide mouthguards to protect vulnerable teeth and gums. Explore all of our other orthodontic treatments for Coatesville, PA dental patients on this page.
Palatal Expansion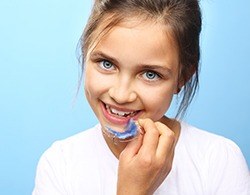 If a child's upper jaw is too narrow or small, it can lead to problems for the developing teeth. For example, it could cause a crossbite and overcrowding. A narrow palate could even make it more difficult for a child to breathe through their nose, leading to perpetual mouth-breathing and its associated dental risks. A palate expander is a custom orthodontic device that is attached to a child's upper teeth. It applies constant, gentle pressure to gradually move the palatal bones apart, thus encouraging proper oral development. Palate expansion is generally most successful in children under 16 years of age.
Tongue Cribs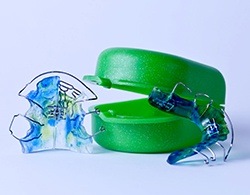 Tongue thrust is a condition wherein someone, most commonly a child, holds their tongue in an improper position when they swallow, placing pressure on the teeth. People swallow hundreds of times each day; the continual pressure from tongue thrust can push the teeth out of alignment. A tongue crib is a small orthodontic appliance that acts like a little cage behind the lower front teeth. It protects the teeth from the tongue's pressure and reminds the child not to thrust their tongue. Tongue cribs are often used in conjunction with other orthodontic treatments, such as braces.
Mouthguards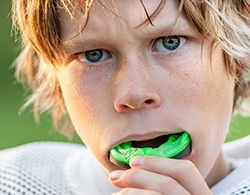 Anyone who plays sports should wear a mouthguard when they're on the field or court. A mouthguard protects the teeth and gums and shields braces from breakage. Studies have even shown that mouthguards can reduce the risk of concussion in contact sports like football. Custom mouthguards are much more effective than any you could over the counter, which is why we always recommend that our patients visit us if they're thinking about taking up a sport. We even offer free mouthguards to individuals who start orthodontic treatment with us.
Our team is deeply interested in protecting your smile and that of your child. To learn more about Dr. Bruck, your orthodontist in Coatesville, and the services she offers, contact our dental office today.