Children's Dentistry – Coatesville, PA
Providing Care for Young Smiles
Are you struggling to find a children's dentist in Coatesville who can take care of your little one's smile? A child's teeth are constantly growing and developing, and it is important that they see someone who can monitor their progress to ensure no problems develop along the way. Dr. Mark Simeone and his team at Chester County Dental Arts are passionate about treating young smiles, which is why he is pleased to offer children dentistry services. Whether it is regular dental checkups and cleanings, providing fluoride treatments, or applying dental sealants, his goal remains to help your child achieve a lifetime of good oral health. To schedule an appointment for children's dentistry in Coatesville, PA, contact our dental office.
Why Choose Us for Children's Dentistry?
Personalized treatment plan to ensure proper growth and development
Highly skilled and trained dental team
Convenient hours that include night and weekend
The Importance of Regular Dental Appointments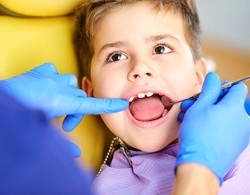 Before your child's first tooth ever erupts, it is important that their oral health be a priority. As they grow and develop, these young teeth are susceptible to a host of dental problems, which can quickly advance if not properly monitored and cleaned on a regular basis. The American Academy of Pediatric Dentistry suggests that you schedule your child's first dental visit by the time they turn one year old. After their initial visit, you'll need to stick to a six-month schedule for regular checkups and cleanings.
Dental Checkups and Teeth Cleanings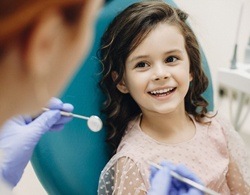 Young teeth are far more prone to cavities since children have yet to perfect a proper brushing technique. Back teeth are often hard to reach, and the grooves and pits of these teeth can trap harmful bacteria and food particles throughout the day. By ensuring your child visits our dental office every six months, we can remove any plaque and tartar build-up from around the teeth and gums, and Dr. Simeone can perform a thorough examination to make sure there are no issues in the development of their smile.
Dental Sealants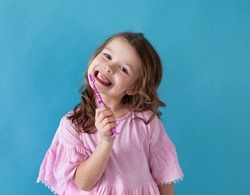 Since a child's back teeth are hard to reach, these are the ones that most often develop cavities. Because these teeth take the brunt of chewing the foods your child eats throughout the day, it can be hard to thoroughly clean the pits and grooves found in molars. This is where dental sealants can help. By applying a thin, plastic coating over these teeth, your child can be better protected from bacteria and plaque, thus, reducing their chances of developing tooth decay or cavities.
Tooth-Colored Fillings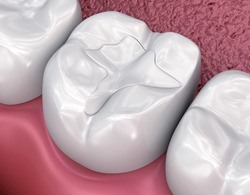 Should a cavity arise in one of your child's teeth, a tooth-colored filling can be placed. Not only is this a more environmentally friendly dental solution, but it is also non-toxic and can blend in with your child's smile. Dr. Simeone will clean out the tooth as normal before filling and sealing it with composite resin to prevent further reinfection. It will be matched to their natural tooth color, so no one will ever know that they've had dental work.
Children's Dentistry Frequently Asked Questions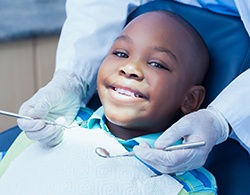 Looking for a dental office that offers children's dentistry? Dr. Mark Simeone understands you want a trusted professional who can take care of all your child's dental needs. This is why you can feel confident knowing he and his team are here to answer your questions, address your concerns, and most of all, help your child achieve a happier, healthier, more beautiful smile. To give you a better understanding of what you can expect when you bring your child in for an appointment, we've compiled a few frequently asked questions about children's dentistry for you to review. Should you wish to inquire about additional services, please do not hesitate to contact us to schedule an appointment.
What is the best way to prepare my child for their first visit?
When it comes to preparing your child for their first dental visit, make sure you maintain a positive attitude. Children often pick up feelings of uncertainty, which can make them nervous or anxious about their appointment. By helping your child stay calm and focused on the positive aspects of maintaining a healthy smile, they will feel more confident and maybe even excited about visiting the dentist.
How should I clean my baby's teeth?
The best thing you can do when it comes to cleaning your baby's smile is to start before the first tooth ever erupts. By taking a clean, damp washcloth, you can gently wipe their gums clean of any formula or residue left behind from feedings. Once the first tooth breaks through the gums, it is best to use a soft-bristled toothbrush or a finger brush to carefully clean the tooth. If you need tips on how to effectively clean your child's first baby teeth, don't hesitate to reach out to Dr. Simeone and his team.
Is my child getting enough fluoride?
Knowing how much fluoride your child should be getting isn't easy for a parent to determine. It often takes a dentist who offers dentistry for kids to best conclude how much is enough to protect growing teeth safely and effectively. While many communities incorporate fluoride into the drinking water, various toothpaste brands include it as well. It is even possible for your child to receive additional fluoride treatments if Dr. Simeone believes it to be necessary. If you are ever unsure if your little one could benefit from additional fluoride, simply ask the dentist during their next visit.
Why are baby teeth important?
Yes, it is true that baby teeth will just simply fall out one day, but that doesn't mean they don't deserve proper care and treatment. These teeth serve as the foundation for your child's adult teeth, and if they fall out too early, it can spell disaster if not treated correctly.
Apart from regular dental checkups and cleanings every six months, making sure your child is brushing, flossing, and rinsing is necessary to keeping baby teeth in place as long as possible. Should one or more fall out early, Dr. Simeone and his team will need to provide adequate treatment to prevent nearby healthy teeth from shifting and causing a problem when the permanent tooth erupts.