Sedation Dentistry – Coatesville, PA
Kick Dental Anxiety to the Curb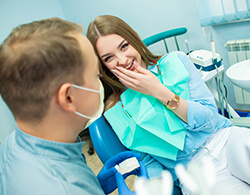 Countless people struggle with some form of dental anxiety. A number of them feel uneasy at the dentist, but they go anyway because they recognize how important oral healthcare is. Others suffer from a more severe anxiety that causes them to avoid dental appointments altogether. If you fall anywhere on that spectrum, the team at Chester County Dental Arts is ready to help. We even offer a FREE consultation to discuss options for sedation dentistry in our Coatesville, PA dental office!
Types of Sedation Dentistry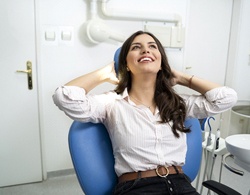 Sedation dentistry uses medications to induce a feeling of relaxation in a patient while our dental team carries out necessary procedures. The methods used to administer it, as well as the exact medications used, can vary. Here is a quick overview of the types of sedation we have available in our dental office:
Local Anesthesia
Unlike other forms of sedation, local anesthesia does not affect the brain. Nevertheless, it can do much to relieve feelings of dental anxiety. It completely numbs the portion of your mouth where we will be working, so you do not have to worry that your procedure will be painful.
Nitrous Oxide
Nitrous oxide, which is otherwise known as laughing gas, has been used in medical settings for well over a century. It is a colorless, almost odorless gas that we administer through a comfortable nasal mask. As soon as you breathe it in, it induces a feeling of relaxation, well-being, and perhaps giddiness. It takes effect very quickly, and it wears off just as quickly at the end of an appointment. It is often a good choice for patients with mild dental anxiety. It is safe for the vast majority of people, including young children.
Learn More About Nitrous Oxide Dental Sedation
How Nitrous Oxide Works
We mix nitrous oxide with oxygen to minimize the risk that you will suffer from negative side effects. (Side effects are usually quite mild and might include a headache and dizziness.) We may also mix in a pleasant fragrance to make your dental experience even more enjoyable.
The effects begin almost immediately as you breathe in the gas. According to your needs, we will adjust the level of nitrous oxide you receive throughout your procedure. You can always let us know if you would like more powerful sedation. Although you may become drowsy, you will not be totally unconscious. If you drift off to sleep, it will be easy for us to awaken you.
Am I a Candidate for Nitrous Oxide?
If you feel nervous about an upcoming dental appointment, let us know about your concerns. Nitrous oxide might be right for you. We often recommend it for patients who:
Have mild to moderate dental anxiety
Suffer from a strong gag reflex
Find it difficult to sit still for an extended period of time due to physical maladies or other problems
Are not easily numbed by local anesthesia
Wish to be sedated but dislike needles
Are budget-conscious (nitrous oxide is among the lower-priced sedation options, and dental insurance is more likely to cover it)
Although nitrous oxide is safe for most people, it may not be appropriate for pregnant women or individuals with high blood pressure. Our team will take a through medical history before we recommend any specific type of sedation.
If you have more severe dental fears than what nitrous oxide can help to mitigate, we may recommend a stronger form of sedation, such as IV sedation or sleep dentistry.
What Is the Recovery Time?
After your procedure, we'll remove your nasal mask. The effects of the nitrous oxide will wear off quickly — almost immediately, in fact — and it will be safe for you to drive yourself home. This is one advantage that nitrous oxide has over more powerful forms of sedation, which take much longer to wear off and may require a recovery time of 24 – 48 hours.
Of course, while the nitrous oxide itself doesn't really come with a recovery period, your dental procedure might. Depending on the type of treatment you received, your dentist may recommend that you take it easy for a day or two while your mouth is on the mend.
IV Dental Sedation
For patients with moderate to severe dental anxiety, we may recommend IV sedation. As its name implies, IV sedation uses intravenously administered medications to help you relax. It takes effect almost immediately, and it is extremely powerful. However, it is not meant to induce unconsciousness or even put you to sleep. You may become drowsy, but you will remain alert enough to respond to directions or questions from our dental team. Only a handful of dental offices offer IV sedation, and we are proud to be among them.
Learn More About IV Dental Sedation
Benefits of IV Dental Sedation
IV sedation offers numerous benefits:
It is versatile. We can adjust your level of medication to suit your needs. If you just need help to take the edge off of your anxiety, you will receive a light dose of sedation. If you are undergoing a lengthy procedure or need extra help to relax, we can increase your dose as necessary.
It takes effect quickly. Unlike with oral conscious sedation, IV sedation begins to work within moments after it is first administered.
Streamlined treatment. If you need multiple or complex dental procedure, it might be possible to get them all taken care of in a single appointment with the help of IV sedation.
It may affect memory. After IV sedation, many patients have no memory of what happened during their procedure. This may be helpful to you if the sights and sounds of dentistry might otherwise make you hesitant to come back for your next appointment.
Is IV Dental Sedation Right for Me?
Your sedation dentist will learn about your medical history, level of dental anxiety, and other factors before they determine if IV sedation is right for you. Some indicators that you might benefit from it include:
You experience moderate to severe dental anxiety
You have a strong gag reflex
It is difficult for you to become numb through local anesthesia
You are undergoing a procedure that may take a long time
It is difficult for you to sit still for long periods of time, or you have physical maladies that make it uncomfortable for you to be in the dental chair
You want powerful sedation, but you do not want to be put to sleep
Does Dental Insurance Cover IV Dental Sedation?
Most dental insurance plans consider IV sedation to be a luxury rather than a necessity, so they are unlikely to cover it. However, since dental policies vary greatly, you should definitely check with your insurance company to see how it applies.
In some cases, insurance companies will cover IV sedation if you have a medical diagnosis that they believe makes the sedation necessary. Severe dental phobia and certain physical and/or behavioral conditions might fall into this category.
If your insurance will not cover your IV sedation, we may be able to help you arrange financing to help you manage the cost of your care. Also, keep in mind that we offer FREE sedation consultations to help our patients know what to expect from sedation. We'll be happy to give you an estimate for the cost of IV sedation for the specific procedure that you will undergo.
Sleep Dentistry
Sleep dentistry is the most powerful form of sedation we offer, and we are one of the few dental offices in our area who provides it. It uses IV medication to actually put you to sleep, so you will be aware of nothing during your procedure. To ensure patient safety, we work with a board certified dental anesthesiologist to provide this form of sedation.
Schedule Your FREE Sedation Dentistry Consultation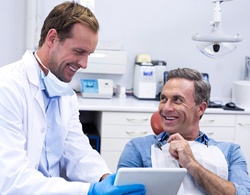 Would you like to discover if sedation dentistry can help you conquer your dental fears? We invite you to visit us for a complimentary consultation. During your appointment, we'll talk about both your dental fears and your oral health concerns. We'll also answer any questions you may have about sedation dentistry and take a medical history that will help us determine which type of sedation will best fit your unique circumstances.
Additionally, we'll take some X-Rays. The X-ray process is quick and painless, and it provides us with valuable information as we plan your treatment. If you are a little nervous about having X-Rays taken, you can count on our supportive patient advocates to walk you through the process at a pace you are comfortable with. Our aim is to help you feel at ease in our dental office.
We look forward to meeting you helping you work through your dental fears! Contact us today to schedule your consultation.
Sedation Dentistry Frequently Asked Questions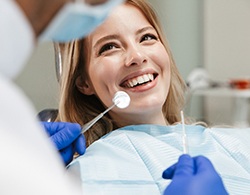 Finding the right sedation dentist in Coatesville requires doing your research and knowing what methods of treatments are used to calm nerves and ensure patient comfortability. Fortunately, Dr. Simeone is a qualified professional who offers a wide array of sedation techniques to give patients greater peace of mind and the opportunity to enjoy a more relaxing appointment. Because it's important that you fully understand how sedation dentistry works, we've compiled some FAQs for you to review. Please don't hesitate to contact our dental office with any additional questions.
How safe is sedation dentistry?
By having your dentist in Coatesville administer your sedation, you can trust that you are receiving an extremely safe and effective method of treatment. Not only will you have a more relaxing and comfortable experience, but you can expect to remember very little, if anything, after your appointment. Depending on the type of sedation you receive, your side effects may be minimal and wear off rather quickly, allowing you to resume normal activity soon after your procedure.
How long will it take for the effects to wear off?
If you are receiving nitrous oxide, you can expect to feel your normal self within minutes of the gas being turned off. Patients who receive this type of sedation often experience no lingering side effects and can return to their regular activities immediately following the appointment. However, if you undergo IV sedation or sleep dentistry, you can expect to have someone escort you to and from your appointment. Why? Because you will likely feel groggy and tired the remainder of the day and need ample rest once you return home.
Is local anesthesia the same as sedation?
No, local anesthesia is not the same as sedation. Dentists use local anesthesia when a patient needs to numb for a particular procedure (i.e. dental crown, filling). If you are fearful of feeling any pain, this type of treatment can minimize your anxiety and help you to get the care you need without the additional worry. Some dentists can combine local anesthesia with sedation, however, if patients appear scared or anxious about their treatment.
Can sedation dentistry be helpful for those who don't experience anxiety?
Yes! Sedation dentistry is not just for dental anxiety. If you have difficulty sitting still for long periods of time, have a sensitive gag reflex, or even feel self-conscious about your teeth and oral health, sedation dentistry can help you relax. Dr. Simeone's goal is to not only ensure a safe dental visit but also one that guarantees you remain comfortable. Sedation dentistry can help make that possible.
Is sedation dentistry covered under dental insurance?
Depending on your individual dental insurance plan, they may or may not cover the cost of sedation. Many insurers do not; however, even if yours is one of those who do not provide ample coverage, Dr. Simeone and our team of experts can help ensure the cost of your treatment is minimal by providing alternative payment methods. With available financing through CareCredit and Lending Club, we can help you stay within your budget while receiving the care you need.