Dental Checkups & Teeth Cleanings – Coatesville, PA
Preventing Problems Before They Start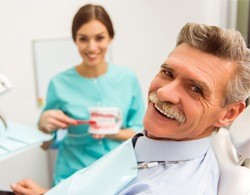 Did you know that the key to good oral health is more than just brushing or flossing at home? Regular dental checkups and cleanings are required so any problems or issues that arise might be addressed before they become more serious to your overall health. Your mouth is the passageway for all the things we consume. The foods we eat, beverages we drink, and even inanimate objects we chew on (i.e. pencils, pens) all leave behind residue and bacteria that can be harmful to our teeth and gums if left untreated. Practicing good oral habits at home is important, but certain problems require better tools and a highly trained eye. If you're looking for a dentist in Coatesville who can offer quality care and the ability to detect problems before they start, look no further than Dr. Mark Simeone. Let him put your oral health back on track by calling us to schedule an appointment for dental checkups and teeth cleanings in Coatesville, PA!
Why You Need a Dental Checkup and Teeth Cleaning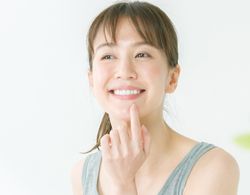 There is a multitude of problems that can occur within your mouth, but the two most common include tooth decay and gum disease. When patients avoid the dentist, the likeliness for these two diseases to develop increases, as well as your chances of oral cancer.
A regular dental checkup includes a comprehensive examination performed by Dr. Simeone. Not only will he be looking for cavities, tooth decay, and gum disease, but he will also be screening for any signs or symptoms associated with oral cancer. Many patients are completely unaware the oral cancer screening takes place because it is so quick, but your dentist is skilled to look for problems an average person may not notice.
Also, don't be surprised if he asks you about any problems you're experiencing or how you're feeling. Some symptoms are not visible but can be displayed by the way a person feels at the time (i.e. sore throat or hoarse voice).
In addition to the dental checkup, one of our skilled hygienists will perform a dental cleaning. Before they begin, if it's necessary, you will have X-rays taken of your mouth so Dr. Simeone and his team can see what is happening beneath the gum line. This will help should he need to develop a treatment plan for any reason.
The hygienist will remove any plaque and tartar buildup, reducing the chances for gum disease to develop. If you are in the early stages of gum disease (gingivitis), a thorough cleaning by our team and good oral hygiene habits at home can reverse this problem. However, if left untreated, it can advance into periodontitis and lead to a deep cleaning process known as scaling and root planing. The worst-case scenario would be bone and tooth loss that can occur as a result of periodontitis.
Once they've cleaned your gums, the next step is to floss and polish your teeth, giving you a fresh and healthy smile!
How Often You Should Receive Them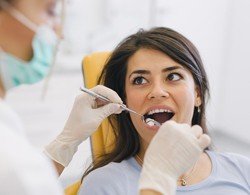 Dr. Simeone and his team recommend that you schedule at least two visits each year. Depending on your individual dental needs, that number could be more. Periodontal patients will need to receive treatment more frequently, as diseased gums need regular treatment in order to prevent future damage.
Why Flossing and Brushing Aren't Enough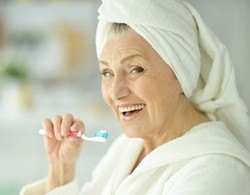 You'll often hear Dr. Simeone and his team talk about the benefits of practicing good oral hygiene habits at home. This includes brushing twice a day for two full minutes, flossing at least once a day, and rinsing with an antiseptic mouthwash, in addition to using a fluoride toothpaste and soft-bristled toothbrush. But optimal oral health requires more than just brushing and flossing. As we mentioned earlier, there are certain problems and situations that can only be detected by a dental professional. Your toothbrush, toothpaste, and dental floss can only do so much, but the tools used by your dental office can reach areas your day-to-day oral equipment cannot.
By combining your routine dental habits and regular checkups and cleanings, this will keep dental insurance costs low, which means more money in your pocket. Preventive care is the tried and true way to save money in the long run. By keeping your teeth and gums healthy from the start, you can prevent problems from developing in the future and more money being used on restorative treatment.