Emergency Dentistry — Thorndale, PA
Quickly Relieving Pain & Restoring Smiles
Dental emergencies happen in an instant causing patients and their loved ones to panic. At Chester County Dental Arts, our team asks that you remain as calm as possible and contact our dental office right away for emergency dentistry in Thorndale, PA. Dr. Mark Simeone welcomes emergencies and does everything in his power to treat them on the same day as your initial call. Our evening and weekend hours allow more time for you to reach us. If you're unable to come to our dental office right away, we can provide guidance over the phone to manage your condition properly. Here are some helpful tips for the most common dental emergencies we see:
Dental emergencies happen in an instant, causing patients and their loved ones to panic. Maybe you suddenly knock out a tooth, or wake up with a searing toothache. Whatever the case, you need emergency dental care fast! At Chester County Dental Arts, our team asks that you remain as calm as possible and contact our dental office right away for emergency dentistry in Thorndale, PA. Dr. Mark Simeone welcomes emergencies and does everything in his power to treat them on the same day as your initial call, and we offer evening and weekend hours to quickly relieve your pain and restore your smile.
Why Choose Chester County Dental Arts for Emergency Dentistry?
Same-Day Emergency Appointments Available
Team of Experienced Dentists Dedicated to Your Comfort
Calming Dental Sedation Available for Maximum Comfort
What to Do in a Dental Emergency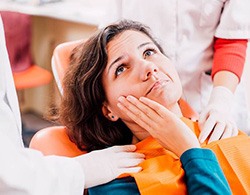 Step 1: Call our dental office right away! We'll schedule you for a same-day emergency appointment and walk you through how to manage your emergency until you can reach us.
Step 2: When you arrive, your Thorndale emergency dentist Dr. Simeone will see you right away. He'll focus on evaluating your condition and providing any necessary pain relief.
Step 3: Simeone will review his findings with you and fully explain your treatment options, including their estimated length and price. He'll work with you to put together a treatment plan that works for your specific situation.
Step 4: Our team will leap into action right away to protect your teeth and repair your smile. Whether you need a dental crown, root canal, tooth extraction, or something else entirely, we will always prioritize your comfort and well-being. Particularly nervous or uncomfortable patients may be interested in receiving nitrous oxide dental sedation for a relaxing experience.
The Most Common Dental Emergencies
No matter if your dental injury is minor or severe, knowing how to handle the problem can minimize additional damage while at home. Whether it is something stuck between your teeth, a damaged or knocked-out tooth, or a severe toothache, these common dental emergencies may cause you to panic. Before you do, call our emergency dentist Dr. Simeone to get personalized first-aid advice and a same-day emergency appointment with our team. Here are some of the most common dental emergencies we treat:
Relaxing Nitrous Oxide Dental Sedation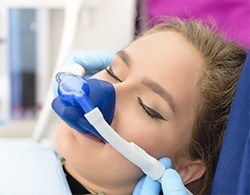 Dental emergencies are stressful enough, so if you experience phobia surrounding a visit to the dentist, this added anxiety can be a little too much. Luckily, we offer effective sedation dentistry options to help any patient feel relaxed and free from pain in our dental office. Nitrous oxide "laughing gas" has long been used by dentists to help patients achieve the optimal level of relaxation in the dental office. This sedation dentistry option is ideal for almost any patient or treatment plan, but during a dental emergency, nitrous oxide can be especially helpful. The effects take hold quickly and the level of sedation can be continually adjusted to ensure you're not in pain or experience unnecessary stress. Then, the nitrous oxide wears away just as quickly as it set in, so you can leave our dental office with a clear head and fully restored smile.
Understanding the Cost of Emergency Dentistry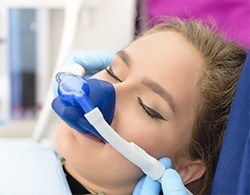 A dental emergency will often have you focused more on the issue at hand versus how much it will cost to fix it. Unfortunately, once you are seated in the dentist's chair and discussions begin regarding forms of treatment, you may begin to see the financial wheels beginning to turn. This is where many people would rather forgo proper care because of the fear associated with the potential cost. Dr. Simeone and his team believe in offering patients affordable care, which is why we are pleased to be in-network with many major PPO dental insurance companies. We also provide financing options to ease the burden of having to pay all at once. To determine which solution is best for your needs, let us help you navigate the financial process by contacting us today to discuss the cost of emergency dentistry in Thorndale.
Every Dental Emergency is Different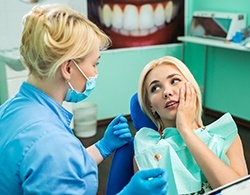 Unlike regular dental checkups and cleanings that are considered preventive care and covered in full by your insurance company, dental emergencies are unexpected occurrences. As a result of the necessary, immediate care you must receive, this will likely cost a bit more than your standard visit. But before you become hesitant to pick up the phone and schedule an appointment for your severe toothache or lost crown/filling, take into consideration the following factors that can influence the cost of your visit:
Location of Dentist's Office: If located within a larger city, the cost of living may be a bit higher, which can lead to more expensive dental care.
Dental Insurance: If you have dental insurance, you will likely pay much less than someone uninsured. The reason is that your insurance company agrees to pay some or all of your restorative care. The amount they agree to pay will be determined by the type of treatment you receive as well as if you've met your deductible.
Restorative Treatment: All restorative treatments have different costs, so it will ultimately be up to you and Dr. Simeone to decide which appropriate method of care will not only fix the problem but also allow you to stay within your budget.
Does Dental Insurance Cover Dental Emergencies?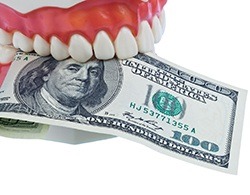 When reviewing your policy, you'll find that most offer one emergency dental visit each year. This means the actual emergency appointment will likely be quite affordable. The real cost comes when undergoing restorative care. However, there is also good news because a majority of plans provide anywhere from 50-80% coverage for these services. Our team will work to establish the best way to get the most out of your plan while helping you to save the most money.
Other Options for Making Dental Emergencies Affordable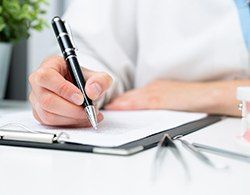 At Chester County Dental Arts, Dr. Simeone is pleased to also offer patients affordable financing through CareCredit, Lending Club, and Lending Point. No matter which option you choose, you can expect to better manage your budget while being able to spread out the cost of your treatment. Depending on the length of your financing plan, you can choose from low and no-interest options, making the financial side of dentistry a bit easier to grasp.
Taking Care of Your Smile Can Save You Money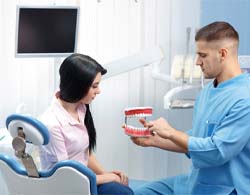 Each patient is different, as is every dental emergency. This is why a scheduled consultation is essential. Unfortunately, many patients forgo these visits simply because they don't think they can afford care or that the pain will suddenly go away on its own.
Before you take the same misstep, remember it is always better to seek professional help from an emergency dentist in Thorndale than to wait and watch your symptoms worsen over time. Instead, make an appointment as soon as you notice any pain or anything abnormal in your smile. Also, stay on top of your oral hygiene routine to minimize your risk for serious injury or infection.