Coatesville Invisalign Clear Braces for Straighter Smiles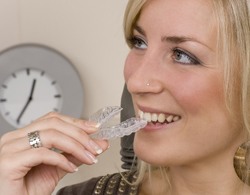 More patients than ever before are seeking smile alignment with orthodontics later in life. For adults who want to straighten their teeth, traditional bracket and wire braces and all the lengthy orthodontist appointments that come with them may not be a viable option. For these patients, the Chester County Dental Arts team may recommend Invisalign clear braces. If you want to learn more about Invisalign, please don't hesitate to contact our Coatesville dentistry practice to schedule an orthodontic consultation. We'll evaluate your smile, review your treatment options, and help you make the best decision for your unique smile.
How Does the Invisalign Treatment Process Work?
Traditional braces use brackets attached to the fronts of teeth and wires attached to these brackets to place pressure on the teeth, shifting them into their ideal alignment. Instead of brackets and wires, the Invisalign process uses a series of clear alignment trays to shift teeth over the course of about a year. Each set of aligners in the series represents the positioning of the teeth one step closer to the desired end result. Patients will wear these aligners for about two weeks at a time before exchanging them for the next set in the series. The process continues for about twelve months of treatment, until patients have the flawless, perfectly aligned smiles of their dreams.
Who Should Consider Invisalign?
Teens and adults with unevenly spaced or crooked teeth or more advanced alignment issues such as over, under, and crossbite may be good candidates for Invisalign treatment. The only way to know for sure that you're a good candidate for Invisalign treatment is to schedule a consultation. We'll examine your smile and create a personalized plan to help you reach your smile alignment goals.
What are the Benefits of Invisalign Orthodontics?
Patients who choose to complete treatment using Invisalign will experience numerous benefits compared with other orthodontic treatments including:
Will I Still Need to Wear a Retainer?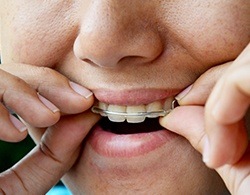 Yes. Following orthodontic treatment, the supportive gum and alveolar bone tissue needs time to set. A retainer holds the teeth in their newly aligned position while these tissues fuse the smile firmly in place. In most cases, you'll need to wear the retainer for about a year. Then, you will need to wear the retainers at night time for several months or an additional year to ensure teeth have fully settled into their new alignment.