Dental Implants — Coatesville, PA
The Premiere Tooth Replacement Option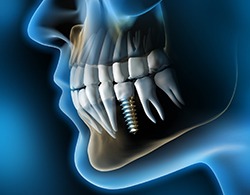 Finding a good tooth replacement option after the loss of one, two, or many teeth is of the utmost importance. Missing teeth can cause a whole host of issues with your oral health, your overall health, your self-confidence, and your quality of life. Thankfully, dental implants in Coatesville can rebuild your smile good as new and replace your missing teeth with the next best thing! This state-of-the-art treatment is considered the premiere tooth replacement option by both patients and dentists alike. To learn more, keep reading and give us a call to schedule your dental implant consultation today!
Why Choose Chester County Dental Arts For Dental Implants?
Entire Dental Implant Process Completed Under One Roof
Permanently Replace Any Number of Missing Teeth
Reasonable Prices & Flexible Payment Options
What Are Dental Implants?
After tooth loss, the best way to replace the missing tooth is to account for each part that has been lost, which includes both the visible crown and the roots hidden beneath the gumline. After all, you can't provide a truly effective solution by only fixing half the problem! Unfortunately, that's exactly what other options such as dental bridges and dentures do—they only replace missing teeth above the gumline and leave the roots missing.
On the other hand, dental implants are held in place with an implant post that is inserted directly into the jawbone to mimic the roots of a natural tooth. Not only does this provide a stable foundation for the final restoration it supports, but it encourages circulation in the jawbone to keep it strong and healthy. Above your gumline, a beautiful, custom-made crown, bridge, or denture anchored in place by the implant(s) will blend in seamlessly with the rest of your pearly whites. Replacing missing teeth with dental implants gives you a smile that looks, feels, and functions just like natural!
The 4 Step Dental Implant Process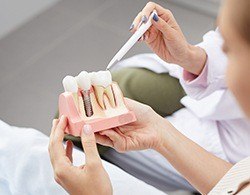 Every dental implant treatment is tailored to meet the unique goals and needs of each patient, so everyone's journey towards rebuilding their smile will look slightly different. However, there are four main steps every patient must go through to receive healthy, beautiful implants: initial consultation, dental implant surgery, osseointegration and abutment placement, and receiving the final restoration. Because no two patients are alike, you can expect Dr. Simeone and our team to personalize your treatment based on your individual needs. Also, our ability to perform the entire dental implant process personally and in-house will make for a more convenient and comfortable experience.
While it is true that receiving dental implants does require patience and a commitment to the process, you'll discover that the months and even year-long process, in some cases, are well worth the wait. If you'd like a better understanding of how dental implants work in Coatesville, review the information below and contact our office with any questions.
Initial Dental Implant Consultation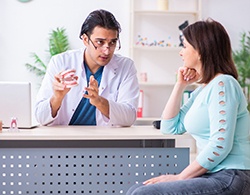 First, you'll meet with Dr. Simeone to ensure that you're a good candidate for dental implants. One of the great benefits of these permanent prosthetics is that they are a viable option for most adults suffering from tooth loss. If you are in good general oral and overall health, and you have enough jawbone, you will likely be given the green light to schedule your implant surgery. However, many patients will need to complete preliminary treatments such as bone grafting or periodontal therapy before beginning dental implant treatment.
Dental Implant Surgery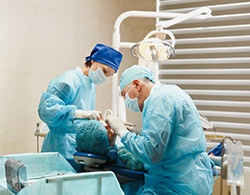 Next, the implants need to be placed. Fortunately, you will not need to receive a referral to see an outside specialist. Instead, we will perform the entire procedure in-house, allowing you to be much more comfortable. Before your implant dentist in Coatesville begins, you will receive local anesthesia to ensure you are pain-free throughout the procedure. We'll then make one or more incisions in your gums (depending on how many dental implants you're getting). Once we've accessed your jawbone, we'll position the implant posts in place, close the gums around them, and place protective caps over the post.
Dental Implant Osseointegration/Abutment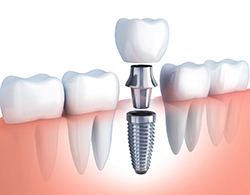 Over the next four to six months, the dental implant posts will fuse with the surrounding bone tissue in a process called osseointegration to essentially become a part of your jaw. During this time, you will need to follow specific instructions to ensure that your mouth fully heals. Some minor soreness and discomfort are normal but will dissipate over time. You will then come back to our office to have small connector pieces called abutments attached to the top of your dental implants in Coatesville.
Delivery of Dental Implant Restorations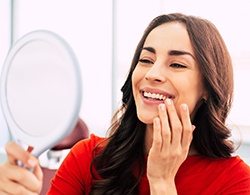 Lastly, you'll return to our office to have your custom crown, bridge, or denture fastened into place. Because of the materials used, you can trust that your customized restoration will look and feel completely natural. Blending in with your remaining smile, you'll feel much more confident in your appearance once this final stage of treatment is finished. We'll check that your bite is comfortable, then you'll be ready to go out and show off your newly completed smile.
Benefits of Dental Implants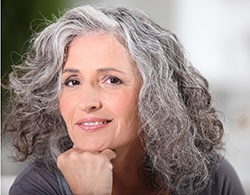 Every smile should last a lifetime, but most people will lose one or more teeth at some point in their lives. With dental implants, though, all hope is not lost. Partnering with the team at Chester County Dental Arts for this comprehensive tooth replacement will help to ensure that you can enjoy a complete, healthy smile for a lifetime to come! With more than 3 million people enjoying the great benefits of dental implants in Coatesville, we encourage you to keep reading to learn about these unique prosthetics and call us with any questions you might have along the way.
Day-to-Day Benefits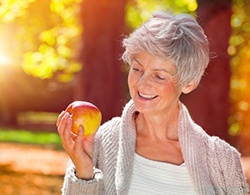 Eat a Nutritious Diet & All Your Favorite Foods: People who are stuck with an ill-fitting tooth replacement are often forced to limit their diets to only the soft foods they can easily eat. This can cause nutrition to suffer as a result. With dental implants, however, you are able to consume a wide variety of fresh and nutritious foods that help you look and feel great.
Preserve What Nature Intended: Dental implants have been called "nature's rival" in tooth replacement because they mimic the original tooth structure so well. By choosing this tooth replacement, you are setting yourself up for a prosthetic that looks and functions as well as your remaining teeth.
Practice Easy Maintenance: Because dental implants mimic your natural tooth structure, you won't have to learn any special techniques to keep them clean. Simply brush your teeth for two minutes, twice a day, floss daily, and continue to enjoy wonderful dental health.
Enjoy a Youthful Appearance: Because a dental implant replaces a missing tooth's root in addition to the visible crown, your jawbone receives the nutrients it needs to stay healthy and whole even after the original root has been lost. This whole-tooth replacement keeps the mouth from losing volume and adding years to your appearance. With dental implants, you can look exactly your age -- or younger!
Health Benefits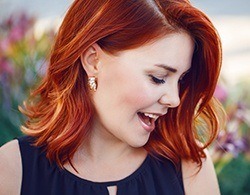 Keep Your Remaining Natural Teeth in Place: Dental implants will help you keep your natural teeth firmly in place by promoting good oral health for the rest of your life. The implant posts prevent the degeneration of bone that is common after tooth loss, greatly reducing the risk that you will lose more teeth later on.
Avoid Altering Regular Teeth: Dental bridges require that you use healthy adjacent teeth as anchors for your prosthetic; however, by allowing a trusted implant dentist in Coatesville to use dental implants, there is no need to bother your existing healthy teeth.
Enjoy Improved Overall Health: Shorter lifespans are not uncommon for people over the age of 65 with 5 or more missing teeth. Tooth loss closely relates to many of the most common systemic issues (i.e., heart disease, diabetes, osteoporosis, and more). By replacing yours with dental implants, you can enjoy better overall health for years to come.
Long-Term Benefits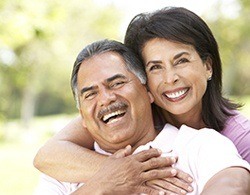 High Success Rate: Dental implants are known to have a success rate of 95% after 10 years!
Smile for Decades to Come: Dental implants in Coatesville may seem like an expensive option in tooth replacement, but unlike dentures and dental bridges that need to be replaced every 5-10 years, with proper care and maintenance, dental implants can last for decades.
Save Money Well Into the Future: Forget about replacements or adjustments to keep up with your diminishing jawbone -- dental implants can stay sturdy and secure for far longer than any other option in tooth replacement! Also, you'll never need to buy adhesives or special cleaning supplies!
Who Dental Implants Can Help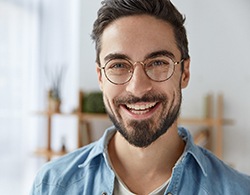 Dental implants have dramatically risen in popularity over the past few decades, and it's easy to see why. This unique tooth loss solution is comfortable, natural-looking, and can last for a lifetime with proper care and maintenance. Dental implants are highly successful in eligible candidates, with a 98% success rate even 10 years after placement. What's more, dental implants can address any level of tooth loss, no matter how many teeth you're missing, and most healthy adults made great candidates for this procedure.
Missing 1 Tooth
When it comes to tooth replacement, dentistry's standards have made dramatic changes over the past several decades. Instead of only solving the issue of gaps in your smile, like how a traditional bridge would, dental implants work to replace the tooth's entire structure. This means they act as a 2-in-1 solution, not a half-measure. This makes dental implants the best long-term solution to missing teeth in dentistry to date. If you're eligible for dental implants, our dentists strongly recommend them for treatment as they provide many decades of reliable use.
Missing Multiple Teeth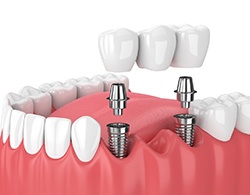 If you've lost two or more teeth in a row, we may recommend a dental implant-supported fixed bridge. These implant bridges allow us to anchor a row of fused together replacement teeth to two dental implant posts, one at each end. This fills a gap in your smile without adversely impacting the surrounding healthy teeth. Traditional dental bridges require the removal of healthy dental structure from the teeth on either side of the lost tooth or teeth, so the bridge can be anchored in place. Implant bridges offer a much more conservative solution that maintains all healthy oral structures.
Missing All Teeth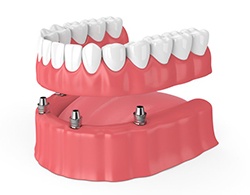 Many patients who have traditional dentures are unable to ever find a proper fit for their prosthetic teeth. Unfortunately, loose dentures can result in oral sores as well as significant stress and frustration over teeth that may slip or slide around while you are eating or speaking. Fortunately, dental implants can retain a full denture to help you smile with full confidence. You will not need an individual implant post placed for each missing tooth. Rather, several strategically-placed dental implants can be used to retain the prosthetic teeth. Implant dentures can be fixed or removable and sometimes, your dentist can use dental implants to secure the denture you already have.
Understanding the Cost of Dental Implants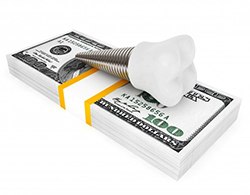 The cost of dental implants in Coatesville will depend on factors including how healthy your jawbone is, how many teeth you have lost, and where in the jaw the implants will be placed. If you need to have a bone graft performed before dental implant placement, the cost of the procedure adds to the total price. Additionally, teeth in the front of the mouth may be more expensive to replace than those in the back given the fact that the procedure is more delicate for the former. The only way to know for sure how much your dental implant procedure will cost is to schedule an appointment with your implant dentist.
Dental implant procedures cost more than other options in tooth replacement, but they are well worth the investment. In fact, you may even end up saving money in the long run given the fact that dental implants do not require replacing and can keep the prosthetic teeth functioning better for longer than non-implant-retained options. Traditional dentures, for example, require replacement every five to seven years. Over time, the cost of each replacement really adds up.
Preliminary Treatments & Dental Implant Surgery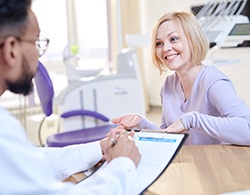 Your initial consultation with Dr. Simeone will include discussing whether you need preliminary treatment in the form of bone grafting, periodontal therapy, or even tooth extraction. Should you be required to undergo one or all these procedures, you can expect them to be added to the total cost of your treatment.
Additionally, your dental implant surgery will incur its own fee. Fortunately, because the entire procedure is performed in-house, you won't need to worry about paying a separate fee to a different implant dentist in Coatesville. Your complete bill will be housed in one location.
The Parts of Your Dental Implant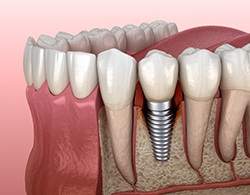 The parts of your dental implant are also factored into the overall cost of your care:
How many implants you will need – Replacing a single tooth is much less expensive than an entire arch; however, when you compare traditional dentures to those attached to dental implants, the more permanent solution is much more cost-effective.
The materials used – Because titanium and zirconia fuse to bone so well, they are the two most common materials used for dental implants.
The type of restoration – Dental implants in Coatesville are highly versatile, so you can receive an implant crown, bridge, or denture.
The brand – Numerous manufacturers offer customized dental implants. We will review the various providers and the materials and technologies they use. Our team will partner with you to find the right dental implant at the right price for your unique oral health care needs.
How Dental Implants Can Save You Money
As you consider all your available options, you may begin to think traditional dentures or a dental bridge is more affordable. While you would be right with regard to the upfront costs, the reality is that over time, dental implants will save you more money in the long run. Not only will you not need to buy denture adhesive to keep your prosthetic in place, but you won't need any special cleaning supplies or frequent adjustments and replacements. Dental implants are designed to last 30 years or more with regular care! Also, by replacing your missing teeth with these permanent prosthetics, you can reduce your risk of developing osteoporosis, diabetes, and heart disease, which are common health conditions that are linked to tooth loss.
Does My Dental Insurance Cover Dental Implants?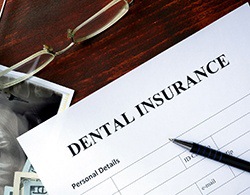 In most cases, dental insurance still doesn't provide coverage for dental implants or their surgical placement. However, we will help you to make the most of your dental benefits for other aspects of your treatment plan, including preparatory procedures and replacement teeth.
Making Dental Implants Affordable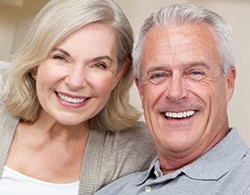 During your tooth replacement consultation and treatment planning appointment, we will work with you to plan for the costs of dental care. That starts with our team carefully explaining the out-of-pocket pricing for each step of the process – preparation, implant placement, abutment attachment and restoration design, and the connection of the replacement tooth or teeth. We can explain how much each of your treatment steps will cost. We will also work with patients to receive low and no interest financing through CareCredit, Lending Point, or Lending Club to spread the costs of their dental implant tooth replacement plan over several months.
Maintaining & Caring for Your Dental Implants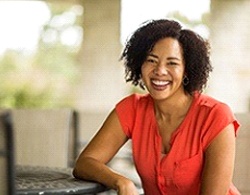 After getting dental implants, you'll want to get the most out of your investment by taking great care of them. With the right maintenance, not only will they continue to look great, but they can easily last a lifetime. After your procedure, we'll provide you with some simple instructions regarding dental implant care in Coatesville so you can enjoy them for decades to come.
Make Oral Hygiene a Priority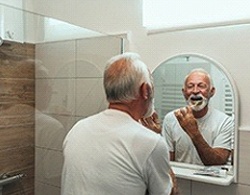 Just like with your home-grown pearly whites, it's important to establish a thorough oral hygiene routine to regularly clear plaque and tartar from your teeth and gumline. Even though your replacement teeth can't get cavities, your gums and mouth can still become overrun with bacteria and cause infections to develop. This could result in implant failure, ruining the smile that you've worked so hard to obtain. To keep this from happening, it's important to continue brushing at least twice each day, flossing every day, and rinsing with antimicrobial mouthwash regularly.
Eating a Healthy Diet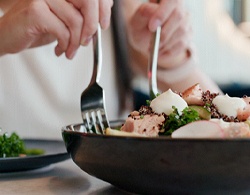 Healthy foods can make a big difference when it comes to maintaining your weight. But they can also help you enjoy a healthier, more beautiful smile. Even with dental implants in Coatesville, it's important that you incorporate fruits, vegetables, leafy greens, lean proteins, and various foods full of calcium and Vitamin C. These will not only strengthen regular tooth enamel, but they'll also improve gum health, which can help reduce your risk for gum disease. Just be mindful of how much sugar and starch you are consuming, as they are known to cause bacterial growth that can lead to decay and serious infections.
Breaking Bad Habits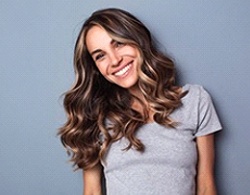 If you know you have bad oral habits such as nail-biting, teeth grinding, or smoking, then it's a good idea to try to quit them or protect your smile before your new dental implants are placed. Teeth grinding can be addressed with our custom-crafted nightguards to help reduce the impact of nightly clenching. However, you'll need to make a conscious effort to curb or quit smoking or biting your nails. These can both increase your risk of infection and dental implant failure.
Protecting Your Dental Implants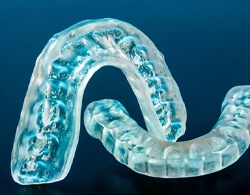 A customized mouthguard is a great investment, especially if you enjoy playing sports or tend to grind your teeth at night while sleeping. These unique oral appliances fit over your upper teeth and absorb any sudden pressure that might harm your pearly whites or soft oral tissues. Instead of rushing to the emergency dental office for immediate care, you can enjoy greater peace of mind knowing your real and artificial teeth are safer with the help of these customized mouthguards.
Scheduling Regular Dental Checkups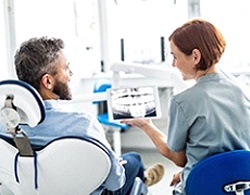 One of the best ways to avoid any issues developing with your new dental implants is to schedule semi-annual checkups and cleanings, just like you normally would. This will allow your implant dentist in Coatesville to inspect your mouth and ward off any lingering threats of oral health problems. Plus, if we do spot an issue developing, we'll be able to quickly treat it and keep it from causing additional damage to your implants.
Contact the Dental Implant Experts Today!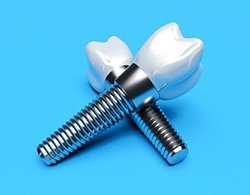 If you are interested in learning even more about this comprehensive tooth replacement, you are invited to get in touch with the team here at Chester County Dental Arts! We believe everyone deserves to enjoy all the benefits of a complete, healthy smile. Even if you are not eligible for dental implants, our team of experts will identify and provide the right solution for your specific smile needs. To get started discussing your options in high-quality tooth replacement, please do not hesitate to get in touch with our dental office today!