Dental Implants – Coatesville, PA
The Premiere Tooth Replacement Option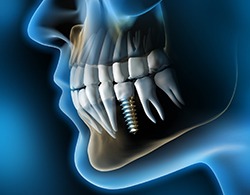 Finding a good tooth replacement option after the loss of one, two, or many teeth is of the utmost importance. Missing teeth can cause a whole host of issues with oral and overall health, but dental implants help to mitigate these problems by allowing you to continue to eat, speak, and smile with full confidence. Here, we have compiled substantial information regarding dental implants for Coatesville, PA patients-- keep reading to find out what they are, how they work, how much they cost, and more information. If you are a good candidate for dental implants, we look forward to getting started with your comprehensive tooth replacement right away.
What Are Dental Implants?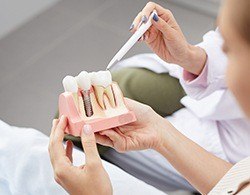 Dental implants are a method of replacing missing teeth. The implant posts are replacements for the roots of missing teeth. An implant post is made out of titanium, a sturdy, biocompatible material that your body accepts without issue. Once the implant post(s) have been implanted beneath the gum line, the prosthetic crown, bridge, or denture is affixed to the top of the dental implants.
Dental implants have dramatically risen in popularity over the past few decades, and today's methods are more effective than ever. Modern dental implants are comfortable, natural-looking, and can last for a lifetime with proper care and maintenance. Dental implants are highly successful in eligible candidates, with up to 98% of all implant procedures reporting success. To be a candidate for dental implants, patients should be in good oral and overall health. Sometimes a preliminary bone graft procedure may be recommended to create the proper environment for dental implants, as the posts require plenty of sturdy bone tissue for successful anchoring. Dental implant procedures are completed under local or general anesthesia and sedation as needed for additional comfort.
How Do Dental Implants Work?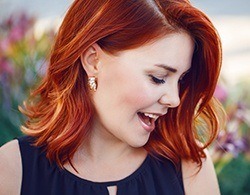 Dental implants provide the ultimate in security for prosthetic teeth thanks to a process known as osseointegration. Titanium is a material that promotes the growth of bone tissue, which means that once titanium implant posts have been placed in the jaw, they gradually begin to fuse together with the jawbone. This process takes anywhere from four to eight months to complete. After osseointegration has occurred, a connector abutment is placed on top of each implant post. The crown, bridge, or denture will then be affixed to the top of this abutment.
In total, the process for dental implants may take up to a year to complete. It is performed in three stages: initial placement of the implant posts, healing, and the final restoration. You may wear a temporary tooth replacement in the recovery period if needed.
Once the process is complete, you will need to continue to perform excellent oral hygiene and avoid tobacco to keep your dental implants secure and functioning properly. Smoking dramatically increases the risk of dental implant failure. Investing in a water flosser or interdental cleaner can help you to keep your dental implants clean. In rare cases, a condition called peri-implantitis caused by poor oral hygiene can cause dental implants to become loose and fail.
What Are the Benefits of Dental Implants?
Dental implants offer a number of benefits for patients who are missing teeth. The most significant advantage is the fact that dental implants promote better oral and overall health. Without the tooth's root, the jawbone does not receive the blood flow and nutrients it needs to remain healthy. Dental implants provide this stimulation with a prosthetic root, and that helps to keep the jawbone strong. Any remaining natural teeth are kept healthy thanks to dental implants. Because they allow you to eat what you want without issue, dental implants also support a balanced, nutritious diet that keeps your body strong and healthy.
Additionally, dental implants are the most natural-looking and -feeling tooth replacement option available because they rebuild the missing tooth's structure from the root up. You can continue to brush and floss your teeth as normal with dental implants.
But the most significant benefit of dental implants? That has to be the fact that they restore your ability to eat, speak, and smile with full confidence once again!
Learn More About the Benefits of Dental Implants
How Much Do Dental Implants Cost?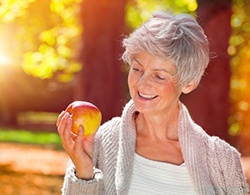 The cost of dental implants will depend on factors including how healthy your jawbone is, how many teeth you have lost, and where in the jaw the implants will be placed. If you need to have a bone graft performed before dental implant placement, the cost of the procedure adds to the total price. Additionally, teeth in the front of the mouth may be more expensive to replace than those in the back given the fact that the procedure is more delicate for the former. The only way to know for sure how much your dental implant procedure will cost is to schedule an appointment with your implant dentist.
Dental implant procedures cost more than other options in tooth replacement, but they are well worth the investment. In fact, you may even end up saving money in the long run given the fact that dental implants do not require replacing and can keep the prosthetic teeth functioning better for longer than non-implant-retained options. Traditional dentures, for example, require replacement every five to seven years. Over time, the cost of each replacement really adds up.
Learn More About the Cost of Dental Implants
How Can I Make My Dentures Fit Better?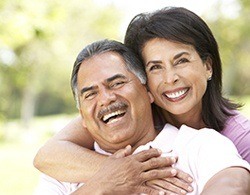 Many patients who have traditional dentures are unable to ever find a proper fit for their prosthetic teeth. Unfortunately, loose dentures can result in oral sores as well as significant stress and frustration over teeth that may slip or slide around while you are eating or speaking. Fortunately, dental implants can retain partial and full dentures to help you smile with full confidence. You will not need an individual implant post placed for each missing tooth. Rather, several strategically-placed dental implants can be used to retain the prosthetic teeth. Implant-retained dentures can be fixed or removable. Sometimes, your dentist can use dental implants to secure an existing denture.
Schedule an appointment if you are dealing with a denture that doesn't fit quite right. A refitting or reline may provide the help you need. If not, we may want to discuss how dental implants can offer a solution. The goal of every tooth replacement treatment plan is a stable, confident smile.
Learn More About Implant Dentures
What Is the Best Way to Replace a Missing Tooth?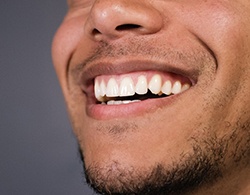 After tooth loss, the most appropriate way to replace the missing tooth is to account for each part that has been lost -- and that begins with the tooth's root. After all, you can't provide a truly effective solution by only fixing half of the problem. Unfortunately, other options do not provide a replacement for the root structure, which means that the jawbone will not receive the stimulation that keeps it healthy in the years to come. It's simple: dental implants are by far the best way to replace a missing tooth. Adult patients who are eligible for dental implants should strongly consider investing in this tooth replacement option.
Single Tooth Dental Implants
When it comes to tooth replacement, dentistry's standards have made dramatic changes over the past several decades. Instead of only solving the issue of gaps in your smile, like how a traditional bridge would, dental implants work to replace the tooth's entire structure. This means they act as a 2-in-1 solution, not a half-measure. This makes dental implants the best long-term solution to missing teeth in dentistry to date. If you're eligible for dental implants, our dentists strongly recommend them for treatment as they provide many decades of reliable use.
Learn More About Single Tooth Dental Implants
Dental Implant-Supported Fixed Bridges
If you've lost two or more teeth in a row, we may recommend a dental implant-supported fixed bridge. These implant bridges allow us to anchor a row of fused together replacement teeth to two dental implant posts, one at each end. This fills a gap in your smile without adversely impacting the surrounding healthy teeth. Traditional dental bridges require the removal of healthy dental structure from the teeth on either side of the lost tooth or teeth, so the bridge can be anchored in place. Implant bridges offer a much more conservative solution that maintains all healthy oral structures.
Why Choose Chester County Dental Arts for Dental Implants?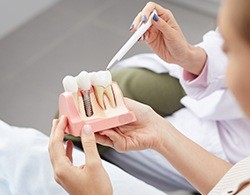 You have a number of options when it comes to who will provide your dental implant placement and restoration in our area, and choosing an expert team is of the utmost importance. Dental implant procedures should be completed by professionals with significant experience, like us here at Chester County Dental Arts. Dr. Mark Simeone has cultivated a team that combines experience and passion for dentistry to offer our patients the very best in dental care. With over two decades of experience in dentistry, Dr. Simeone knows the power of a complete, healthy smile -- and after tooth loss, that means dental implants. He is a member of the American Academy of Implant Dentistry. Dr. Simeone partners with periodontist Dr. Jean Bichara, who is one of the most skilled dental implant surgeons in our area. Together, this team provides expert dental implant solutions for patients who have experienced any amount of tooth loss. You can't go wrong when you choose Chester County Dental Arts to handle your tooth replacement!
Dental Implant Aftercare
After getting dental implants in Coatesville, you'll want to get the most out of your investment by taking great care of them. With the right maintenance, not only will they continue looking great, but they can also last for over 35 years. After your procedure, we'll provide you with some simple aftercare instructions so you can enjoy them for decades to come.
Learn More About Caring for Dental Implants
Your Dental Implant Questions: Answered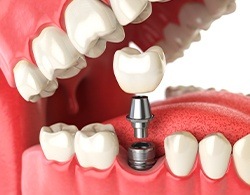 As a trusted source of implant dentistry, we hear a lot of questions about dental implants. While we always take the time to discuss the treatment at length during consultations and appointments, we thought it would be a good idea to answer some of them on our website, too! Take some time to browse through our dental implant FAQ to learn the answers to some of the most common questions about this fantastic tooth replacement option.
Learn More about Common Dental Implant Questions
Contact the Dental Implant Experts Today!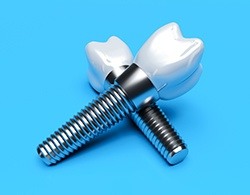 We have provided a significant amount of information regarding dental implants right here -- and if you are interested in learning even more about this comprehensive tooth replacement, you are invited to get in touch with the team here at Chester County Dental Arts! We believe everyone deserves to enjoy all the benefits of a complete, healthy smile. Even if you are not eligible for dental implants, our team of experts will identify and provide the right solution for your specific smile needs. To get started discussing your options in high-quality tooth replacement, please do not hesitate to get in touch with our dental office today!
Want To Know More About Dental Implants?
Download Our Dental Implants Guide!