Nightguards for TMJ & Bruxism – Coatesville, PA
Relieving Jaw Pain and Reducing Wear and Tear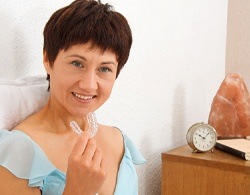 Signs and Symptoms of TMJ Disorder and Bruxism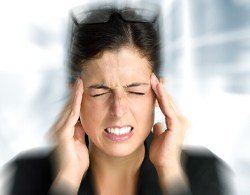 If you suffer from Bruxism, you can expect some of the most common signs and symptoms to include:
It may be difficult to identify the problem since teeth grinding and clenching usually only occurs at night; however, if stress or anxiety is prevalent in your life, you might begin to notice that you do it more throughout the day.
You'll notice that if you have one dental problem (Bruxism), it is likely you'll develop the other that is most closely associated with it (TMD). For patients who suffer from temporomandibular joint disorder, the symptoms can include:
Clicking or locking jaw
Difficulty open or closing your mouth
Jaw fatigue
Pain in your neck, shoulders, face, and jaw
Difficulty chewing, eating, or yawning
Swelling
How Nightguards Are a Viable Solution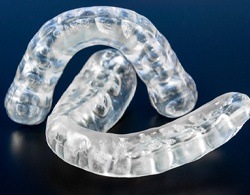 If you're tired of watching your tear slowly wear away, or you've had enough of the continual pain caused by TMD, it's time you discuss the possibility of a custom nightguard with Dr. Simeone. These custom-made oral appliances are not only comfortable, but they are effectively at treating TMJ and Bruxism. Protecting your teeth against teeth grinding and clenching, it will also alleviate much of the pressure and pain you experience with TMD. Nightguards are designed to give you a restful night's sleep that is pain-free.
Process of Receiving a Custom Nightguard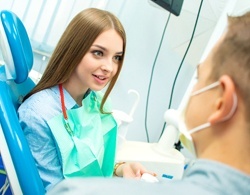 After examining your mouth in its entirety, Dr. Simeone will survey the damage to your teeth and jaw before crafting a personalized treatment plan. Taking impressions of your teeth, he will send them to dental lab professionals who are equipped and trained to create custom nightguards based on the specifications of your individual case.
Once it is finished, you will return to our dentaloffice to be fitted with your new nightguard. Once Dr. Simeone is satisfied with the fit and comfortability, he will send you home with your new appliance and clear instructions on how to wear it and for how long.
How to Care for Your Nightguard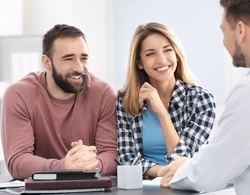 In order for your nightguard to last as long as possible, it's important that you take the necessary steps to keep it clean. In order to do this, here are some suggested tips: