Cosmetic Dentistry – Coatesville, PA
Creating Picture-Perfect Smiles
Everyone wants a beautiful smile, but only some are lucky enough to enjoy one naturally. Aesthetic flaws are likely to accumulate on teeth over time, such as chips, cracks, stains, discoloration, gaps, misalignments, and more. Thankfully, Dr. Mark Simeone offers several cosmetic services at Chester County Dental Arts, all designed to give your look the revitalizing makeover it deserves. Call us today to schedule your consultation to discuss your options for cosmetic dentistry in Coatesville, PA! Patients from Downingtown, Thorndale, and beyond are always welcome.
Tooth-Colored Fillings
Virtually everyone experiences one or more cavities over the course of their lives. Thankfully, having a filling placed to correct the damage is a simple and quick procedure at Chester County Dental Arts. Instead of traditional, metallic fillings, Dr. Simeone is happy to offer quality composite resin as a tooth-colored alternative that's more conservative and comfortable for patients.
Dr. Simeone may recommend having a tooth-colored filling placed in the following situations: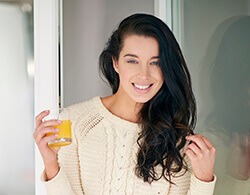 If the patient is suffering from mild to moderate tooth decay
If the patient has an amalgam filling that's become damaged or warped
If the patient has a current amalgam filling that isn't satisfying their cosmetic needs
If the patient has a small fracture or crack in the tooth, even if there's no decay present
During your filling procedure, Dr. Simeone begins by anesthetizing his patient and then removes the damaged portion of the tooth. This will be performed precisely so healthy structure remains intact. After thoroughly cleaning the area, he places the composite resin and contours it to create a virtually seamless appearance. Once the results are ideal, a curing light hardens the filling in place.
Learn More About Tooth-Colored Fillings
Porcelain Veneers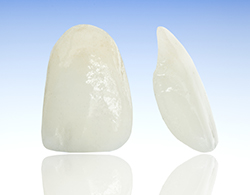 For patients with multiple cosmetic problems, the thought of undergoing a lengthy treatment plan can be overwhelming. In these cases, Dr. Simeone may recommend veneers, a cosmetic solution that creates dazzling transformations for your smile all at once. These wafer-thin pieces of customized dental porcelain are designed to fit directly over your natural teeth, providing a new, flawless look and hiding countless irregularities completely including:
Dental stains and discoloration (even those that are permanent or resistant to teeth whitening)
Chips or cracks
Teeth that are crooked, misaligned, or irregularly shaped
Minor to moderate gaps between teeth
Teeth that appear short and/or worn down
The veneer process typically requires two to three appointments, with one for preparation and impressions and the other for the placement of the finished product. Many patients who consider orthodontic treatment end up turning to veneers because of the speed and ease of treatment. Better yet, veneers are more resistant against dental stains than enamel, which allows patients to maintain dramatically improved look longer.
Learn More About Porcelain Veneers
All-Ceramic Dental Restorations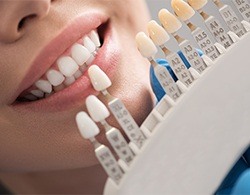 When needing one or more teeth restored, the last thing patients deserve is to have to choose between oral health and the cosmetic quality of their smile. Thankfully, all-ceramic crowns, bridges, inlays, and onlays from Chester County Dental Arts provides the best of both worlds. Instead of noticeable silver and gold shades, these restorations are designed to seamlessly blend in with your natural teeth and give you back your self-confidence.
In addition to aesthetics, all-ceramic restorations offer patients other benefits, especially when compared to their more traditional counterparts. Overall, less natural tooth structure has to be removed to accommodate their placement, making treatment more conservative and successful. The quality porcelain used is biocompatible, which means patients with allergies or sensitivities to metals can enjoy them. Additionally, they are durable and last several years with the help of proper cleaning and maintenance.
Smile Makeovers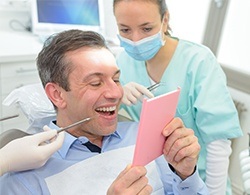 Some people seem to be born with brilliantly white, perfectly aligned teeth and movie star smiles. If you're not in that category, you can still get the beautiful smile of your dreams. No matter what your cosmetic dentistry goals, our knowledgeable team of experts can help you create a completely personalized smile makeover plan to straighten, brighten, and perfect even the most flawed smiles. Your makeover may utilize any number of treatment options, including teeth whitening, porcelain veneers, all-ceramic dental crowns and more.
Learn More About Smile Makeovers
Soft Tissue Laser Dental Treatment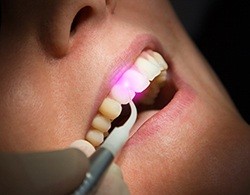 With the help of our state-of-the-art soft tissue laser, patients enjoy more precise and comfortable results than ever before. Typically, Dr. Simeone relies on this advanced tool to treat periodontal disease. However, it can also be used in crown lengthening and gum recontouring procedures to create a more symmetrical and aesthetically pleasing look overall.
Teeth Whitening
Over time, everyone's smiles become a little lackluster. Dental stains and discoloration are constantly accumulating caused by coffee, wine, certain medications, and even unavoidable factors like genetics and age. If you're ready to regain a dazzling look, turn to your team at Chester County Dental Arts. Dr. Simeone offers both in-office whitening and take-home whitening kits as effective solutions!
Do you have a big event coming up quickly that you'd love to look your very best for? Our in-office procedure may be the best option for you. The process is very simple – Dr. Simeone and the rest of our team handle the application of bleaching gel while you sit back and relax. After only a single, hour-long appointment, you achieve a dramatically brighter smile that's ready to show off to the world.
If you'd prefer to improve your teeth gradually, our customized take-home kits produce the same beautiful results at a more convenient pace. We provide you with bleaching gel and will instruct you to use it each day for a certain amount of time. This treatment can be performed entirely on your schedule and in the comfort of your own home. Within a few days you should see noticeable changes.