Before & After Patient Photos - Coatesville, PA
Real Patients, Real Smiles
Even though you probably haven't been to dental school, you innately know what high-quality dentistry looks like. When you see someone smile, their teeth look healthy and beautiful while still appearing natural. That's the mark of a great dentist…you can't tell where their work ends and nature begins. This is the type of result we provide for all of our patients here at Chester County Dental Arts, and you can see a few examples for yourself in our Smile Gallery.
Mary H.
Mary had been unhappy with her smile for many years. By using dental implants with an 'All on 4' approach on Mary's upper teeth, we were able to place the teeth where they look best and control where the gumline is, restoring proper symmetry, form, and function all while improving esthetics. Who would have thought gum tissue with an All on 4 could look so natural!? Congratulations Mary on your new smile!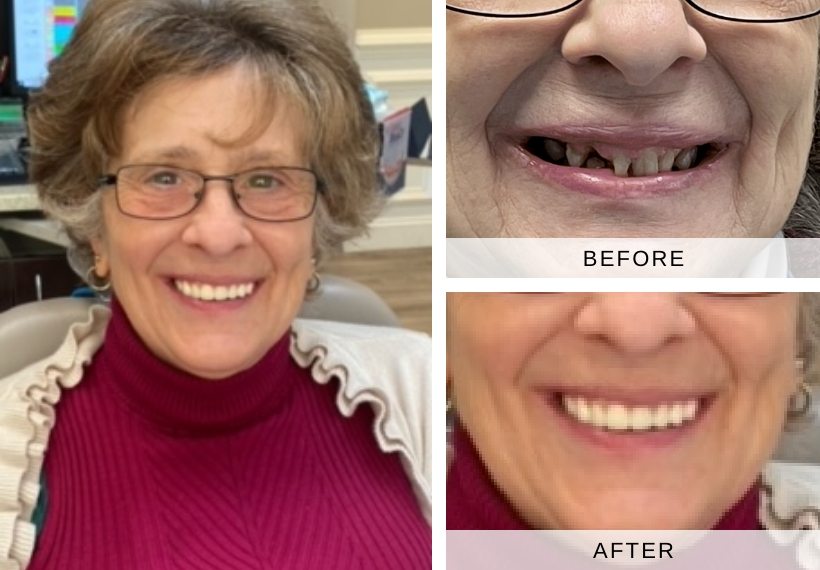 Stephen B.
Stephen came to us as he needed several dental procedures done. Fortunately, Dr. Simeone was able to provide everything they needed in-house which saved Stephen tons of time. First, all of his remaining teeth were removed, and then four dental implants were placed into the upper and lower jaws. These were then topped with Bruxzir retained bridges, and the difference is night and day. While the aesthetics definitely stand out, the biggest difference for the patient came down to their ability to eat whatever he wanted again! Congratulations Stephen!