Restorative Dentistry – Coatesville, PA
Repairing & Ehancing Smiles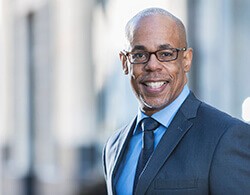 Most people will experience some kind of dental damage or decay at some point in their lives, whether it is from injury or improper oral hygiene. What's most important to remember is that any past dental history does not have to influence your future. Here at Chester County Dental Arts, we're not interested in playing the blame game or making you feel unfairly judged. Our goal is to give you back a strong, healthy smile in a comfortable and friendly environment. Dr. Simeone stands behind his slogan of "your home of no-shame dental care." Contact us today if you have questions about restorative dentistry in Coatesville, PA, or if you're ready to schedule your appointment. Dr. Mark Simeone, your Coatesville dentist, is also happy to serve the nearby areas of Modena, Sadsburryville, Downingtown, and Thorndale.
Dental Crowns & Bridges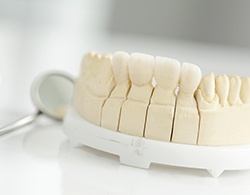 Dental crowns (or Caps) are an important option to discuss in restorative dentistry. They're designed to cover the tooth protecting it from additional damage, or decay. By preparing the tooth for a Crown restoration, you are strengthening it and extending the life of the tooth. Dr. Simeone recommends crowns for patients in a variety of situations, including but not limited to:
Significant tooth decay that can't be treated with a filling
Weakening tooth structure that needs additional support
Cracks or fractures in the tooth
Restoring dental implants by adding the tooth to the implant
Restoring teeth treated with root canal therapy
Dental bridges, on the other hand, are designed to replace one or more missing teeth in a row. This prevents natural teeth from shifting to fill the empty space, which can lead to higher risk of infection and pain. Better yet, bridges are cemented in place and non-removable, which can be ideal for patients who are dissatisfied with the loose fit of a traditional denture. This is accomplished by covering healthy teeth on either side of the gap with dental crowns that serve as "anchors" for the new bridge.
Learn More About Dental Crowns & Bridges
Root Canal Therapy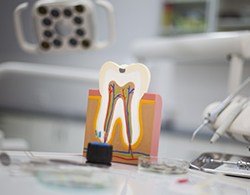 Do any of these symptoms sound familiar?
Significant, constant pain in the area of a specific tooth
Discomfort that occurs when chewing on a certain side of the mouth
Excessive oral sensitivity to hot or cold temperatures
Tooth discoloration
You may be in need of root canal therapy. Although Roots Canals have a negative connation, in fact Root Canal therapy is a highly successful procedure that restores health to severely damaged teeth and saves them from the threat of extraction. Dr. Simeone accesses the inside of the tooth and thoroughly cleans away bacteria. After sealing the area shut, a custom-made dental crown is placed over the tooth restoring the tooth's full strength and function.
Learn More About Root Canal Therapy
Dental Implant Placement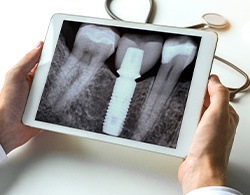 Whether it's one tooth or several, losing part of your natural smile can have devastating consequences on your wellbeing. Simple activities such as eating and speaking become frustrating, and your self-confidence may shrink so much that it's hard to look in the mirror. Our team's goal is to give you back your quality of life, and we accomplish that with the power of dental implants. This revolutionary solution replicates the entire structure of your tooth for exceptional health and aesthetic benefits. In fact, the results are so extraordinary that our patients report forgetting its even there!
Adequate jawbone density and generally good oral health are prerequisites for most dental implant procedures. If they're not met, additional procedures may be required first. At Chester County Dental Arts, we're proud to offer both the placement and the restoration of your dental implants right here in-office, all under one roof! During the placement, one or more implants will be placed into your mouth. Patients then start the healing process during which the implant(s) gradually bond with the natural tissue and bone. This process called Osseo integration, creates a solid foundation for the replacement of the teeth.
Dental Implant Restoration Options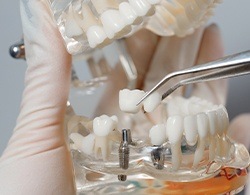 Once a patient has fully healed from the placement of their dental implants, it'll be time to return to our dental office so Dr. Simeone can restore them. In cases of individual implants, a single, all-ceramic crown can rebuild lost structure in a conservative fashion, allowing nearby healthy teeth to remain virtually unscathed.
When a patient has experienced more extensive tooth loss, their options for restoration increase. While dental crowns can still be successfully used, the number of needed implants and restorations may be cost-prohibitive for many patients. Thankfully, implant-retained prosthetics provides the same lifelike results. This prosthetics closely resembles a traditional bridge or denture, but they're designed to attach a small number of strategically placed implants within the jawbone. This creates a sturdier and more confident fit overall. Dr. Simeone offers both fixed and removable options depending on the patient's personal needs and preferences. Call today to schedule your appointment with Dr. Simeone to see which options are best for you!
Learn More about Dental Implants
Full-Mouth Reconstruction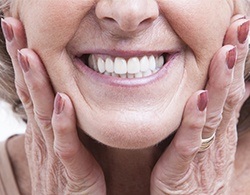 Extensive tooth decay accrued over a lifetime of less-than-perfect oral hygiene, serious facial trauma, or advanced tooth loss can all lead to a need for full mouth reconstruction. Whatever your individual case, if you feel like just about every tooth in your mouth needs a little help, it may be time to schedule a full-mouth reconstruction consultation appointment with our team. We'll evaluate your smile and help you to recreate healthy function and give you the confidence to speak clearly and eat all of your favorite foods again. These plans may include any number of treatments from dental crowns and bridges to dental implants and implant-retained dentures. Each plan will be uniquely crafted to meet the needs of the individual.