Traditional Braces in Coatesville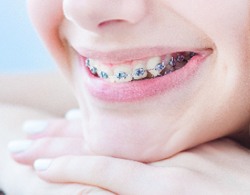 Unfortunately, very few people are born with a naturally straight smile. If you are among those who suffer from bite and alignment issues, you likely feel a bit insecure about your appearance. To straighten your teeth, traditional metal braces in Coatesville will restore your confidence while also improving your oral health. As the most effective and affordable orthodontic systems, it is the perfect option for children, teens, and adults who want to achieve a healthy, straight smile.
How Misaligned Teeth Affect Your Oral Health
Often, it is believed that misalignment issues are only cosmetic concerns; however, this is not true. When your teeth are not properly aligned, it makes them more difficult to clean, increasing your risk for gum disease and tooth decay.
Not to mention, a poorly aligned bite can also cause issues with the temporomandibular joint, which connects the jaw to the skull. You even have a heightened risk for dental emergencies, especially if you have protruding teeth. To prevent these complications, metal braces in Coatesville provide the solution you need.
Straighten Your Teeth with an Effective Solution
Due to several advancements in orthodontics, metal braces remain the most effective and reliable option to treat even the most complex bite and alignment issues. No matter if you have gapped, rotated, tilted, or overcrowded teeth, metal braces are the solution you need. They can even align your bite to promote your oral functions.
By attaching brackets and wires to the surface of the teeth, they are gradually pulled into their ideal positions. Now, they can be made to look less noticeable with smaller brackets and wires for a more discreet treatment.
To start your journey to a straight smile, you will first need an orthodontic consultation. In addition to a visual examination, impressions and digital images are needed to create a treatment plan to move your teeth.
The brackets and wires will be placed on the teeth and small adjustments will be made over time to move them into position. On average, your treatment will take about 18 to 24 months to complete; however, that time will vary from person to person. After your braces are removed, you will need to wear a retainer for a short time to prevent your teeth from moving back into their previous positions.
While your braces are in place, it is important to maintain your oral hygiene and regular appointments for checkups and adjustments. In addition, there are certain foods you will need to avoid to prevent damage to your teeth and the braces, like overly sticky foods and those that contain sugar.
Start Your Journey to a Straight Smile
If you are ready to get a straight, healthy smile to restore your confidence, it is time to see if metal braces are the right option for you. Dr. Ronni Bruck will create a customized treatment plan to help you start your journey to a straight smile.
Contact Chester County Dental Arts today to schedule your orthodontic consultation.