All-On-4 Dental Implants – Coatesville, PA
Fewer Implants, Same Great Results
Dr. Mark Simeone regularly sees patients who are suffering from tooth loss and prefer the permanency of dental implants. However, not all patients may be eligible to receive these prosthetics or opt for preliminary treatment before undergoing oral surgery. Fortunately, this is where All-On-4 in Coatesville can be a viable solution. Dr. Simeone and his team can restore your smile with fewer implant posts while helping you achieve the same great results! To learn more about All-on-4 dental implants in Coatesville, PA, contact us today.
How Do All-On-4 Dental Implants Work?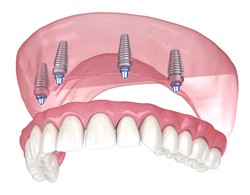 All-On-4 is similar to regular dental implants in that they create a permanent, longer-lasting smile; however, they only require four implant posts as opposed to four or six for an implant denture. By allowing your implant dentist in Coatesville to identify and use the densest areas of your jawbone, you can forgo the necessary bone grafting procedure required for implant dentures.
Two posts are placed toward the back of your mouth (posterior) and angled to 45-degrees while the other two posts are positioned toward the front (anterior). This creates a stable foundation for your new teeth.
Am I a Candidate for All-On-4 Dental Implants?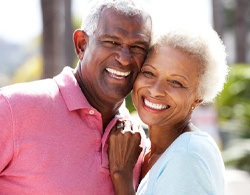 One of the clear stipulations in receiving implant dentures is the patient must have enough jawbone. This is not entirely true for All-On-4, which is why you will be a likely candidate for treatment. However, a complete consultation with Dr. Simeone is necessary before moving forward. It is vital that you do not possess any signs of gum disease before receiving All-On-4, as this can disqualify you from immediate treatment.
If gum disease is evident, we'll need to use periodontal therapy to improve the status of your gum health before allowing you to receive All-on-4.
Benefits of All-On-4 Dental Implants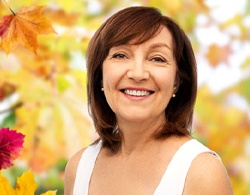 The benefits you can expect with All-On-4 are much more than you might expect. If you're worried that only four dental implant posts will not be enough to adequately support your new smile, don't be. Instead, embrace the advantages that will come with this type of treatment, such as:
A stronger bite force, allowing you to eat the foods you love without worrying about your teeth slipping out of place.
A more youthful appearance because of the fullness your All-On-4 implants and customized denture will provide.
Greater stimulation to your jawbone each time you bite down and chew.
A prosthetic that is designed to last 30 years or longer with proper care.
All-On-4 vs. Traditional Dental Implants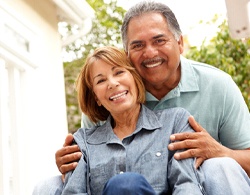 If you don't think there is much variation between All-On-4 and dental implants in Coatesville, here is a brief breakdown of how these two solutions differ:
With All-On-4, you only need four implant posts. As a result, you will spend less on your treatment because of the fewer titanium posts. This is also beneficial when it comes to your recovery.
You are not required to undergo bone grafting before receiving your All-On-4, which not only keeps costs lower but also allows you to move through treatment quicker because you don't need the additional procedure.
If your dentist deems it possible, you may be able to receive your new teeth the same day as your surgery.