Orthodontics – Coatesville, PA
Perfect Your Smile & Align Your Bite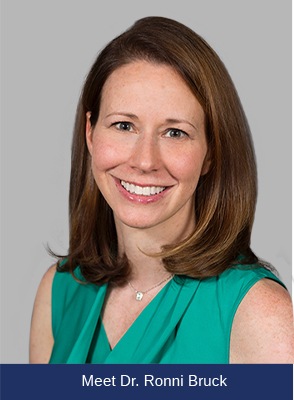 ---
Welcome to our orthodontic office! You are now one step closer to the straight, beautiful smile you deserve.
Chester County Dental Arts is your home for orthodontic treatment in your neighborhood. Dr. Ronni Bruck brings 15 years of orthodontic experience right to you. Her comprehensive approach will give you or your family member a predictable outcome and a smile you can be proud of for a lifetime. Call our dental and orthodontic office today to schedule your complimentary consultation with Dr. Bruck and see what orthodontics in Coatesville, PA can do for you!


We cater to BUSY families like yours:
You can consolidate cleaning appointments and orthodontic adjustments into one appointment with our team!


We are an award-winning dental office:
Dr. Simeone was named a Top Dentist in the area by the readers of Suburban Life Magazine!


Continuing Education:
Our team (including our dentists, clinical staff, and front desk) regularly attends continuing education courses to stay on top of the latest technology so we can continue to provide our patients with 5-star care!


Gold Status Invisalign providers:
This is a prestigious ranking from Invisalign that is based on previous successes, and it's something we are very proud of!


Ronni Bruck:
Our orthodontist has been with our dental office since 2017. Here in Coatesville, PA, our talented orthodontist is happy to offer traditional braces, ceramic braces, and Invisalign! All of our orthodontic treatment options correct issues like gaps, misaligned teeth, overbites, overcrowding, relapse, and similar concerns.


Benefits in Oral Health:
Achieving a straighter smile isn't just great for self-confidence – it also boosts someone's oral health and overall quality of life. When your teeth are properly aligned, it prevents further trauma, allows you to keep them cleaner, and gives you a pleasing aesthetic result.


The Latest Technology:
We are proud to introduce you to our new iTero intraoral scanning tool! Say goodbye to those goopy impressions everyone hates! The iTero Scanner is comfortable and far more accurate in capturing the data needed to give you a predictable outcome.
Does your child want or need straight teeth?


Fill out our form to schedule your complimentary
consultation with Dr. Bruck today!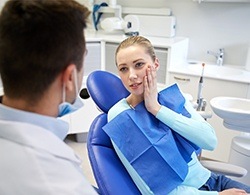 Save Time by Scheduling Your Child's Dental Cleaning & Orthodontic
Checkup Together
---
What Patients are Saying
"My experience with Dr. Simeone and all the staff has been nothing but excellent, both for my normal dental care and invisalign treatment. I had explored invisalign treatment and adult orthodontia treatment at other providers in the past over many years and was left extremely disappointed with their plans, prognosis, length of treatment and costs. I had resigned myself to possibly considering either costly cosmetic surgery or leaving my crooked teeth as they were before allowing myself one more consultation and review of my concerns with Chester County Dental Arts. My treatment plan, costs and insurance options were covered step by step and set up without any surprises. I even had some doubt the process could be completed in as short a time as suggested and with the expected result shown in model diagrams. I have experienced outstanding results under Dr. Simeone's care and would advise anyone thinking about orthodontia treatment, particularly invisalign to not hesitate and contact the dental office to schedule without delay." - David Dougherty
"I've been a patient here for a year and a half. I first came to CCDA for their Invisalign services, but switched dentists once I met Dr. Simone and his team. The staff is very genuine, welcoming, and professional. Before starting Invisalign, the team was very informative about how the process would work and I never felt pressured to make a decision. I'm thankful for Dr. Bruck and everyone at CCDA for helping give me confidence in my smile!" - Rachel Dawson
"I had a GREAT experience! Jenna, Christine and Melinda are so friendly and amazing to work. The staff is very friendly and welcoming! My teeth came out great with Invisalign and the staff really works with you and your schedule. I highly recommend! Couldn't be more happier with my results!" - Kim Martin
Invisalign® Clear Braces
---
Traditional orthodontic care can be a big commitment, especially if you have to sacrifice a professional, polished image in the process. That's one reason Dr. Simeone and Dr. Bruck may recommend Invisalign treatment as a more seamless alternative for adult patients. Invisalign doesn't involve any brackets or wires – instead, it relies on a series of plastic aligners customized to your unique smile. Patients simply wear each set of trays as directed and attend regular checkups so Dr. Simeone and Dr. Bruck can keep monitoring their progress.
What are the Benefits of Getting Invisalign®?
---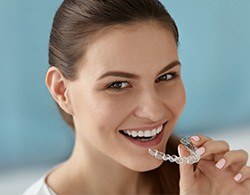 There are many benefits associated with Invisalign. The plastic aligners are completely clear, meaning most casual observers won't realize you're wearing them. They're removable as well, which allows patients to maintain their current diet and oral hygiene routine without interruption. While traditional orthodontics typically require multiple years to be fully effective, Invisalign treatment is usually finished in just 8-18 months.
Traditional Braces
---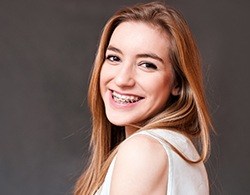 Traditional braces offer patients premier durability and cost-effectiveness, making them the right choice for many children, teenagers, and adults alike. They're composed of silver brackets and metal wires that work together to move the teeth towards their desired position. Advances in the orthodontic field have made this option smaller and sleeker than before, which reduces irritation and increases their cosmetic quality. Patients will still likely experience some mild discomfort at the beginning of their treatment. As the mouth becomes accustomed to the braces, many patients become so used to them that they forget they are wearing them.
How are Traditional Braces Beneficial?
---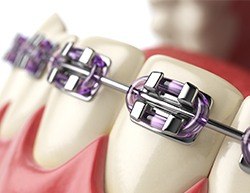 One fun benefit of getting traditional braces is the use of colored elastics! These fit around the brackets and can be altered during appointments at Chester County Dental Arts, allowing kids and teenagers to show off their personality. More neutral colors like white and gray are also available for adults who would like to maintain a subtler appearance.
Other Orthodontic Treatments
---
Traditional braces and Invisalign are some of the most popular orthodontic services we offer. However, Dr. Bruck's experience and training enable her to provide other treatments that can also contribute to a healthy, well-developed mouth:
Palate expansionto prevent a crossbite, encourage proper tooth alignment, and allow for easier breathing.
Tongue cribsto prevent a tongue thrust from pushing the teeth out of alignment.
Custom mouthguardsto protect athletes' teeth and gums from trauma on the field or court.