Tooth-Colored Fillings – Coatesville, PA
The Metal-Free Option for Repairing Cavities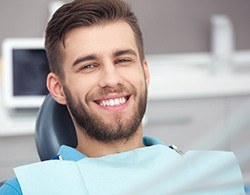 Fillings have always been a viable option for people with cavities; however, while the solution helped to fix the problem, the result left many unhappy with the esthetic of their smile. While some dental offices still use metal fillings, it makes it impossible for others not to notice. This is why Dr. Mark Simeone offers tooth-colored fillings in Coatesville to quickly and effectively correct the damage. Their natural look and feel will give you the confidence you need, while their tight seal will keep bacteria from making its way back into the crevices of your tooth. To find out how Chester County Dental Arts can help restore your smile with tooth-colored fillings in Coatesville, PA, call and schedule an appointment today.
What Are Tooth-Colored Fillings Made From?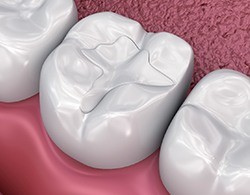 Made up of a composite resin that consists of both plastic and silica fillers, your dentist in Coatesville can match it to the color of your natural tooth. It can mimic many of the same qualities such as translucency and wear-resistance.
What Are the Benefits of Tooth-Colored Fillings?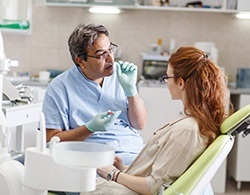 While the obvious benefit may be that tooth-colored fillings are the metal-free option for repairing cavities, you'll also be pleased to know:
It supports the remaining tooth structure, preventing future breakage or damage.
With amalgam fillings, more of your natural tooth much be removed for it to stay in place. However, with tooth-colored fillings, you can keep more of your natural tooth.
You're less likely to experience tooth sensitivity.
Treatment is quick! To fill one or two cavities, you can expect it to only take less than an hour.
It creates a tight seal, preventing bacteria from forming in small spaces.
You can expect your filling to last more than a decade because of its durability.
You'll have greater confidence knowing your filling is unnoticeable to others.
How Are Tooth-Colored Fillings Placed?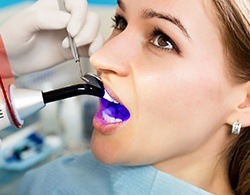 Dr. Simeone will begin by administering anesthesia before removing the damaged portion of the tooth. Once the area is thoroughly cleaned, he will place the composite resin and sculpt it so that it is visually appealing. Finally, he will use a curing light to harden the filling in place.
Caring for Your Tooth-Colored Fillings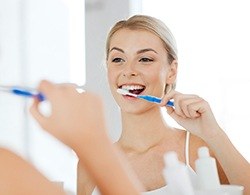 Brush your teeth twice a day, and floss at least once a day. It's important to maintain good oral habits to prevent future cavities from forming.
Once the anesthesia wears off, you can safely chew on the side you had your filling.
If you experience soreness after receiving your filling, an over-the-counter pain reliever can help to alleviate any discomfort.
Avoid any foods or beverages that may cause staining, as it can discolor your tooth-colored filling.
Visit Dr. Simeone every six months for a regular checkup to ensure your oral health and any fillings or restorations are in good shape.