How To Handle Common Dental Emergencies – Coatesville, PA
Taking Care of Your Injured Smile
No matter if your dental injury is minor or severe, knowing how to handle the problem can minimize additional damage while at home. Whether it is something stuck between your teeth, a partially knocked-out tooth, an abscess, or a busted lip, these common dental emergencies may cause you to panic. Before you do, let our emergency dentist, Dr. Mark Simeone, explain how to handle common dental emergencies in Coatesville, PA and stave off pain and further harm while you wait to get in for an appointment with our team. Should you have more questions or need additional assistance in dealing with your dental injury, give us a call today.
Something Stuck Between Your Teeth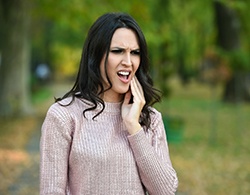 When something is stuck between your teeth, the most effective way to remove it is to use waxed dental floss. Not only is this the safest way to remove a lodged object, but if you are experiencing much pain, this method of removal will have you feeling less discomfort once you remove the item. However, if you discover it is not something lodged between your teeth, it may be that pain is developing because of an infection inside your tooth, which will require a root canal or tooth extraction depending on the severity.
Extruded Tooth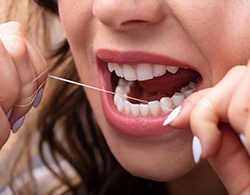 When a tooth is partially dislodged, it is important that you take care of the situation in a timely manner. Apart from calling our office as soon as possible, your emergency dentist recommends that you take an over-the-counter pain reliever to reduce discomfort and use a cold compress to minimize swelling. If possible, you may be able to push the tooth back into the socket, but if you are not comfortable doing so, make sure to avoid chewing or biting on that side of your mouth until you are able to get in to see us.
Abscess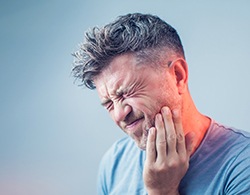 When a pocket of pus forms along the gum line, this is a clear indicator that an abscess is causing your immense pain. An infection is likely near your tooth root or between your teeth and as a result, this pocket of pus will form. Not only can it damage the gum tissue, but it can also negatively impact nearby teeth. An abscess is a serious problem that needs to be addressed promptly. While waiting for your appointment, it is best if you rinse with saltwater multiple times a day to reduce pain and take an over-the-counter pain reliever.
Soft Tissue Injury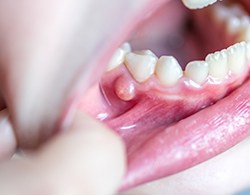 Whether it is a busted lip, scratched gums, or the soft tissue of your cheek that you bit down on too hard, a soft tissue injury can often bleed more than you think. To minimize the bleeding, try applying a damp washcloth or gauze onto the injury for 15-20 minutes. Once you've slowed the bleeding, you can use a cold compress on the area for 5-10 minutes.