May 27, 2020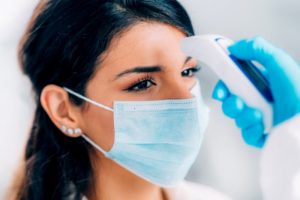 COVID-19 has changed virtually every aspect of daily life. It may have affected the way you shop for groceries, the way you spend time with your friends, and more. It will even have an impact on your next dental appointment. Dentists must be extra careful to protect patients, their team members, and the community at large. In this blog post, we'll discuss some safety measures that your dental office is putting into practice that will make your next appointment different from what you are used to.
Before Your Appointment
Before your next appointment, or when you arrive at the office, your dental team may conduct a quick health screening. They may ask you a few questions, including:
Do you have a fever? (They may carry out a contactless temperature check.)
Are you experiencing a cough or shortness of breath?
Have you recently come into contact with anyone who has tested positive for COVID-19 or who was exhibiting symptoms of COVID-19?
If you answer yes to any of these questions, your dental team may recommend that you reschedule your appointment for a few weeks in the future. In the meantime, you should contact your general healthcare provider. If you answer no to the questions, you can attend your appointment as scheduled.
During Your Appointment
You will likely notice numerous changes throughout the dental office. When you pull into the parking lot, you may be able to check in for your appointment on your phone instead of heading into the building right away. You may also have online access to all necessary forms so you and dental staff have as little contact as possible before your treatment.
Inside the office, you will see that the dental staff are wearing more personal protective equipment than they used to. You may also notice that there are no toys or magazines in the waiting area, and that there are extra plastic barriers on some surfaces. Before you pass from the waiting area into the treatment room, you will be asked to thoroughly sanitize your hands. You may also be asked to wear a face covering when you are not undergoing treatment.
In the operatory, you might notice new air purification units or other equipment that are used to help stop the spread of contagions in the air.
We have discussed just a few of the measures that many dental offices are taking to provide top-tier service while still doing all they can to fight COVID-19. If you would like to learn more about how your local dentist is protecting you, their team, and the community at large, you are welcome to contact them. They would be happy to answer your questions!
About the Author
Dr. Mark Simeone has many years of experience as a general dentist, and he has gained widespread recognition as a leader in his field. Since 2016, he has been the proud owner of Chester County Dental Arts. He and our entire team are putting strict protocols in place to keep patients safe while we continue to provide the world-class dentistry that you are used to receiving here. To learn more about us or to request your next appointment, contact us at 610-383-1600.
Comments Off

on Dentistry During COVID-19: What to Expect at Your Next Appointment
No Comments
No comments yet.
RSS feed for comments on this post.
Sorry, the comment form is closed at this time.