April 9, 2020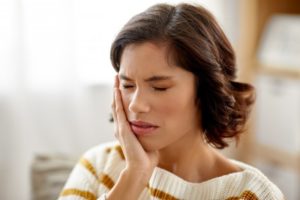 Most common dental emergencies should be seen and treated by a dentist. Unfortunately, because of COVID-19, dental offices are having to limit the number of individuals that come in for help and are choosing only to see those who have serious issues or infections. So how do you know if what you're dealing with is "bad" enough for a visit? Review the following signs to watch out for and be better prepared should you face a dental emergency amid the COVID-19 outbreak.
Signs That Indicate an Emergency Visit to the Dentist
Wondering what you should be on the lookout for when faced with the possibility of needing to see an emergency dentist? Here are a few signs:
Severe tooth pain – This can be the result of an abscess or other serious infection that can lead to increased harm in your mouth and body.
Knocked-out tooth – This type of injury requires immediate help to save the tooth. Otherwise, you will need to look into tooth replacement options.
Loose tooth – While it is normal for children to have loose teeth, adults should never experience this. If you are, it usually means there is something wrong.
Fractured or broken jawbone
Continuous bleeding coming from the mouth that cannot be stopped
Increased swelling that also includes a fever and difficulty breathing, as this can block your airway
Ways to Treat Your Dental Emergency at Home
Should you discover that your dental emergency does not require immediate medical attention, there are a few things you can use at home to relieve pain and prevent additional harm to your teeth and gums. Some of these include:
An over-the-counter pain reliever to reduce discomfort
Cold compresses or ice packs to relieve pain and minimize swelling
Dental wax for any instances where jagged corners or orthodontic appliances are rubbing against soft tissues
Dental adhesive for a lost crown or filling that needs to be temporarily put back into place
Whether your goal is to be treated by a professional or not, it's always best to call and alert your dental team to your situation. Once you've divulged your problem to the staff, they will determine the best course of action to ensure your mouth does not face additional damage or harm. From providing tips to recommending helpful products you can purchase at the local drug store, they are available to help in your time of need.
About the Author
Dr. Mark Simeone wants to provide you with the help you need when faced with a dental emergency. Unfortunately, not all injuries require immediate attention. However, no matter the type of accident you incur, our team is available to take your call and provide additional instructions on how to care for your problem at home. Once it is safe for our office to reopen, we will happily schedule an appointment for you. To speak to a member of our team, contact us at (610) 383-1600.
Comments Off

on How Do I Know if I'm Experiencing a Real Dental Emergency?
No Comments
No comments yet.
RSS feed for comments on this post.
Sorry, the comment form is closed at this time.