December 30, 2020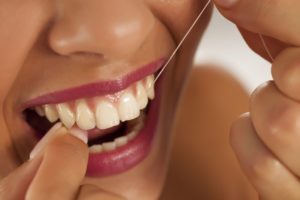 An estimated 35 percent of people in the country don't floss every day like their dentist and the American Dental Association recommends. Although this may seem like an unnecessary extra step to take care of your teeth and gums in addition to brushing, it can do wonders for your oral health and help your smile stay cavity-free. If you're looking for a new year's resolution that will improve your physical wellbeing and help you feel better about yourself, flossing every day is a great idea! Read on to learn more about what flossing can do for your smile and how to perfect the technique.
Why is Flossing Important?
While brushing your teeth does wonders removing plaque from the surface of your teeth, flossing is an absolute necessity to keep food debris and harmful oral bacteria from collecting between your teeth. These bacteria feed off of sugars and carbohydrates from leftover food in your mouth, and when you don't floss regularly, it could create a buffet for bacteria! After they consume the carbs and sugars, they'll excrete waste in the form of toxins that are known to cause gum disease and acid that erodes the enamel on your teeth and results in cavities.
What's the Best Way to Floss Your Teeth?
If you're not careful and you don't know the proper flossing technique, you could damage your gums or not remove all of the debris from between your teeth. By following these basic flossing steps every day, you can effectively prevent cavities and harmful oral bacteria accumulation:
Break off about 18 inches of floss and wind most of it around one middle finger and the rest on your other middle finger.
Hold the floss tightly between each of your hands and gently glide it between your teeth using a rubbing motion.
Use the hand with the least amount of floss on it to take up the dirty floss.
When the floss reaches your gumline, move it into a "C" shape and glide it between the space between your gum and tooth to make sure that no debris lingers.
Repeat these steps between all of your teeth once a day.
If you have difficulty maneuvering regular dental floss, water flossers and flossing picks are another easy and effective method to clean between your teeth!
Tips & Tricks to Keep Your Smile Healthy in 2021
Making small, daily changes to improve your oral health can help boost your confidence and make you feel great in the new year. Just stay on-track with your daily flossing schedule by being sure to set an alarm in your phone or place a sticky note on your mirror to remind you to floss each night. When you do, you'll be able to enjoy a healthy and fresh-feeling smile that makes you feel like showing it off more!
About the Author
Dr. Mark Simeone has over 20 years of experience as a dentist and is passionate about helping his patients maintain healthy and happy smiles. He conducts thorough and highly effective preventive dental services, like routine checkups and cleanings, to make sure that small oral health issues are diagnosed and treated before they can cause permanent damage to a smile. He's also happy to treat patients of all ages, including children and adults! To schedule a checkup and cleaning to start off 2021 on a healthy note, visit Chester County Dental Arts' website or call 610-383-1600.
Comments Off

on Being Healthier in 2021: The Perks of Regularly Flossing Your Teeth
No Comments
No comments yet.
RSS feed for comments on this post.
Sorry, the comment form is closed at this time.