Single Tooth Dental Implants – Coatesville, PA
The New Standard for Long-Term Tooth Replacement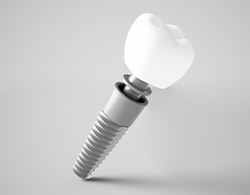 At Chester County Dental Arts, we work hard to provide patients the most advanced dental services possible all in one office. Staying on the cutting-edge, remaining dedicated to continuing education and housing the most qualified dental professionals allows us to keep pushing the envelope in terms of dental care. This is the case for all of the services we provide, including the new standard for tooth replacement: dental implants. If you're missing a tooth but don't want to settle for a dental bridge, then dental implants can offer you the highest quality solution in dentistry to date. Contact our office today to schedule a consultation and learn your eligibility to receive dental implants!
Tooth Replacement Options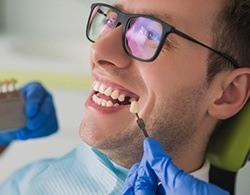 When people lose a tooth, there are two paths they can take in terms of treatment. These include traditional bridges and dental implants. While traditional bridges may seem like the most ideal option for replacing teeth, they aren't without their drawbacks. Bridges require the removal of existing tooth enamel to place because the restoration is designed to fit over the top of teeth adjacent to the gap in your smile. However, this is not the case with dental implants because the replacement crown is anchored via a dedicated titanium post that's integrated inside the jaw. Therefore, it's easier to retain more of your natural tooth structure, which dentists always consider to be the most ideal scenario for patients.
What are Single Tooth Implants?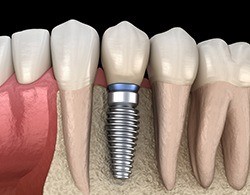 Single tooth dental implants consist of three components. These include the titanium posts as previously mentioned, the abutment and the implant crown. The implant-crown is made from porcelain and meant to fill the gap in your smile, while the abutment is meant to act as a connector for the post and crown.
After the implant is placed inside the jaw, it slowly integrates with the bone via a process known as osseointegration. Because titanium is a biocompatible material, there's very little worry of whether the implant will properly fuse with your existing oral structure.
Benefits of Single Tooth Implants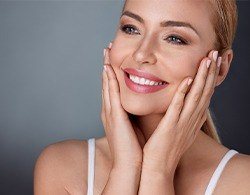 There are many benefits to consider when choosing dental implants. Keep in mind that these benefits are unique compared to dental bridges, which generally do not last as long as dental implants nor feel as natural. Just a few of the benefits you can expect from dental implants include:
A long-lasting solution to tooth loss (dental implants last anywhere between 25 years to a lifetime when maintained properly)
A natural-looking replacement that blends in seamlessly with your existing teeth
No special maintenance to keep healthy (only routine dental visits and consistent at-home care like natural teeth)
No risk of damaging neighboring teeth to place
The fullest biting force possible (thanks to continuous bone stimulation)
Are you ready to talk with an implant dentist in Coatesville about your eligibility for dental implants? Contact our office to speak with one of our experts!