Coatesville Dental Implant Costs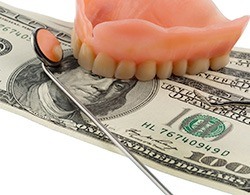 If you've lost one tooth, several teeth, or a full row, your dentist has likely talked to you about dental implant supported replacement teeth. This innovative dental restoration option allows us to restore teeth from the roots up. However, many patients pump the breaks when they hear how much their dental implants will cost. At Chester County Dental Arts, we know that the price of these advanced dental restoration can seem overwhelming, but we wouldn't recommend this service if we didn't truly believe it was the best option. On this page, we'll review the aspects of dental implant tooth replacement that may impact costs and help you to understand how our Coatesville dentist and dental team can help you budget for this treatment option. If you're ready to get started, call Chester County Dental Arts to schedule a tooth replacement consultation today. We'll examine your smile, review your treatment options, and help you to find the ideal restoration solution to put the smile back on your face.
Types of Implants & Their Costs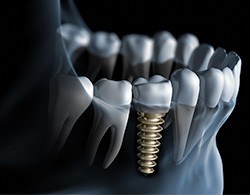 There are numerous manufacturers who offer customized dental implants. We will review the various providers and the materials and technologies they use. Our team will partner with you to find the right dental implant at the right price for your unique oral health care needs.
A Sample Dental Implant Supported Crown Cost Breakdown
To replace one missing tooth, we will use a single dental implant to support a dental crown. The costs of these treatments typically breakdown as follows:
Single implant post and placement - $1,000 to $3,000
Abutment piece to anchor the crown to the implant - $350 to $500
Dental crowns - $500 to $3,000
Total cost ranges from about $2,000 to $6,500
A Sample Implant Supported Bridge Cost Breakdown
To replace two or more consecutive missing teeth, we will use two dental implant posts to support a fixed bridge restoration. The costs of these treatments typically breakdown as follows:
Two dental implant posts and placement - $2,000 to $6,000
Two abutment pieces to anchor bridge to implants - $700 to $1,000
Fixed bridge restorations - $1,500 to $6,500 or higher depending on number of replacement teeth, materials used, and other factors
Total cost typically ranges from about $4,000 to $8,000
A Sample Implant Supported Denture Cost Breakdown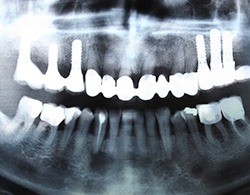 Dental implant supported partial and full dentures require the placement of four to six strategically positioned dental implant posts. The costs of these treatments typically breakdown as follows:
Four to six dental implant posts and placement - $4,000 to $18,000
Four to six abutment pieces to anchor the denture to implants - $1,400 to $3,000
Partial or full denture restorations - $300 to $5,000 per denture plate (top or bottom)
Total cost ranges from about $5,000 to $30,000
Frequently Asked Questions About Dental Implant Costs
Before we begin your dental implant tooth replacement plan, you may want to consider the answers to some of the following frequently asked questions.
Are Mini Dental Implants More Affordable?
For some patients, mini dental implants offer a slightly more affordable treatment option. A single mini implant costs between $500 and $1,500, depending on the manufacturer and materials used.
Is an All-on-4 Denture More Expensive?
Because the All-on-4 denture system uses an innovative treatment technique, uniquely crafted implant posts, and precision placement methods, it can be a little pricier than traditional implant dentures. The average cost for a full All-on-4 denture is about $30,000.
How Should I Budget for Dental Implants?
During your tooth replacement consultation and treatment planning appointment, we will work with you to plan for the costs of dental care. That starts with our team carefully explaining the out of pocket pricing for each step of the process – preparation, implant placement, abutment attachment and restoration design, and the connection of the replacement tooth or teeth. We can explain how much each of your treatment steps will cost. We will also work with patients to receive low and no interest financing options to spread the costs of their dental implant tooth replacement plan over several months.
What Other Costs are Associated with Dental Implants?
In addition to the price of dental implants and replacement teeth, you may also need to consider the costs of numerous related services, including:
Tooth extractions when one or more damaged or decayed teeth needs to be removed before we begin the restoration process
Soft tissue grafting when gum recession has occurred prior to placement
Bone grafts to improve the success rate for dental implant placement
Dental sedation to keep patients comfortable
What About Dental Insurance Coverage?
In most cases, dental insurance still doesn't provide coverage for dental implants or their surgical placement. However, we will help you to make the most of your dental benefits for other aspects of your treatment plan, including preparatory procedures and replacement teeth.
Benefits of Choosing Dental Implants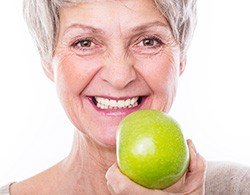 At the end of the day, the reason so many people choose to move forward with dental implant supported tooth replacement despite the initial cost is that they offer so many benefits for oral and overall health and confidence. Some of the reasons patients consider dental implant supported tooth replacement worth the investment include:
Long lasting – dental implant supported replacement teeth can last for two decades or longer compared with replacement every five to ten years, which is recommended for traditional crowns, bridges, and dentures. Many patients are able to keep their implant restorations for the rest of their lives.
Stable – the improved stability is especially apparent when it comes to implant retained dentures. Traditional dental prosthetics only restore about 20% of healthy chewing function, limiting patients to a diet of softer and easier to consume foods. Implant retained dentures restore 70% or more chewing range. This allows patients to confidently chew almost any foods.
Healthy natural function – following tooth loss, diminished gum tissue volume and jawbone density are some of the many adverse oral health effects that can occur. The supportive structure requires stimulation from the tooth roots. When this root structure is lost, the body redirects the nutrients that maintain these tissues, and overtime, the gum and jawbone begin to diminish in density. This can lead to further tooth loss, changes in facial shape, and other detrimental health issues.
Easy care – because dental implants are held firmly in place like healthy, natural smiles, you can brush and floss your teeth as usual, making these restorations easier to care for than other options.