Cost of Dental Emergencies – Coatesville, PA
Immediate Care Financial Expectations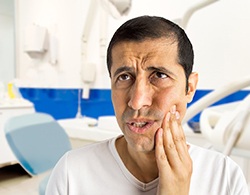 A dental emergency will often have you focused more on the issue at hand versus how much it will cost to fix it. Unfortunately, once you are seated in the dentist's chair and discussions begin regarding forms of treatment, you may begin to see the financial wheels beginning to turn. This is where many people would rather forgo proper care because of the fear associated with the potential cost. Dr. Simeone and his team believe in offering patients affordable care, which is why we are pleased to be in-network with many major PPO dental insurance companies. We also provide financing options to ease the burden of having to pay all at once. To determine which solution is best for your needs, let us help you navigate the financial process by contacting us today.
What Factors Can Influence the Cost of Emergency Care?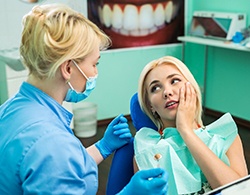 Unlike regular dental checkups and cleanings that are considered preventive care and covered in full by your insurance company, dental emergencies are unexpected occurrences. As a result of the necessary, immediate care you must receive, this will likely cost a bit more than your standard visit. But before you become hesitant to pick up the phone and schedule an appointment for your severe toothache or lost crown/filling, take into consideration the following factors that can influence the cost of your visit:
Location of Dentist's Office: If located within a larger city, the cost of living may be a bit higher, which can lead to more expensive dental care.
Dental Insurance: If you have dental insurance, you will likely pay much less than someone uninsured. The reason is that your insurance company agrees to pay some or all of your restorative care. The amount they agree to pay will be determined by the type of treatment you receive as well as if you've met your deductible.
Restorative Treatment: All restorative treatments have different costs, so it will ultimately up to you and Dr. Simeone to decide which appropriate method of care will not only fix the problem but also allow you to stay within your budget.
Financial Options Available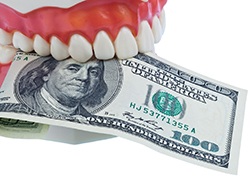 Dr. Simeone is proud to be an in-network provider with the following major PPO insurance providers:
Aetna
Ameritas
Cigna
Delta Dental
Guardian
Humana
Assurant
MetLife
BlueCross BlueShield
United Concordia
And many more!
If you are uninsured, there is no need to worry! Our team will happily walk you through the process of enrolling in one of two financing options through CareCredit or Lending Club. These third-party financiers provide low and no-interest payment plans for qualified patients.
Importance of Scheduling a Consultation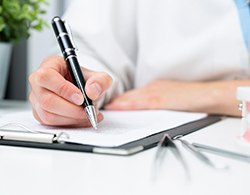 When a dental emergency occurs, it is important that you schedule a consultation as soon as possible. The longer you wait, the more extensive the problem can become, resulting in more timely and costly treatments to address your situation.
Because each patient is different, as is every dental emergency, these consultations allow Dr. Simeone to examine your problem thoroughly and recommend one or more possible treatment options that will get you back to enjoying a healthier, more beautiful smile.
You will need to review your dental insurance policy to find out which restorative services are designated as "minor" and "major." This will determine how much your dental insurance company will pay once the claim is filed.
No matter what type of treatment you require, never let the cost keep you from improving your oral health. Our team will work with you to help keep your expenses low while making sure your smile receives the best possible care.